Jeanette Amies wasn't quite sure why she could tell no one of her war-time job, but she kept the secret for decades. Picture: Bruce Morris
By Bruce Morris
In times where secrets and gossip can be spread across the world in a moment, it is hard to imagine how Jeanette Amies hid a story that changed history.
Jeanette's secret was as far from the tittle-tattle of daily life and living as it's possible to get. Rather, it was the stuff of books, movies and television – and that is where it all ended up. (Most recently in the movie The Imitation Game, released in 2014.)
Her role was a bit part, but she was an important cog in a brilliant plot to halt Hitler's advance and win the Second World War for her country and its allies.
Today, Jeanette and husband Keith live a tranquil life in the house built for them 53 years ago on the edge of the Mt Albert Grammar School farm. At 91 her eyesight is poor, but she looks back vividly on a rich life that once took her within the fold of an intricate campaign that historians say helped to end the war two years earlier, perhaps saving the lives of thousands.
She was just 18, a Wren with a spanking new uniform, when she entered the secret world of code-breaking, though she had no idea of the significance of the work – and, really, only discovered its importance and influence 30-odd years later, 10,000km away in Mt Albert.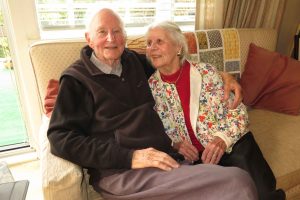 Jeanette (pictured here with Keith at their Mt Albert home) was part of the team, led by the brain-power of the inspired mathematician Alan Turing, which secretly manipulated the German Enigma code and gave the Allied forces daily access to vital enemy intelligence.
She signed a secrecy declaration forbidding her to utter a word for 30 years and she kept that pledge until a television documentary in New Zealand in the late 70s explained the role of the code-breakers. By then she had virtually forgotten about her war job.
As they looked at the screen, Jeanette turned that day to her husband – the Kiwi airman she had met at the end of the war in London – and said, "There it is – that's what I did in the war." It was the first time she had dared to speak a word about her secret mission.
Keith, now 95, and Jeanette Amies have become a classic love story, married now for almost 68 years. But it might never have happened because the war was a dangerous environment for a young teenager.
Jeanette was boarding at a convent school in the town of Rottingdean, near Brighton on the English Channel coast, in September 1939 when, as she recalls, "the nuns came flapping in with 'children, children – war has been declared and you will all have to go back to your homes."
Merry hell and mild panic
It was merry hell, with children, nuns and parents all in mild panic – beginning an anxious and scary three years as a home-schooled student in Purley, Surrey, as war dominated every day. A shelter was built in the front garden, curtains were drawn each night and food was rationed.
One day their street was evacuated as experts dealt with an unexploded bomb, and a plane crash on the edge of town emphasised the tragedy of war and lives lost. At other times the threat came from lethal "doodlebugs" – effectively cruise missiles with an 1800-pound warhead – with their menacing pulsing engines and then silence to indicate they were plummeting to earth. Jeanette, an innocent teenager like thousands of others, knew the terror and panicked rush for shelter when the sirens sounded.
The worst came when she and her Mum were walking home from the station and, out of nowhere, a German Messerschmitt fighter swooped on them, firing its machine guns. Mother and daughter jumped into a drain beside bush as the trail of bullets ripped past them.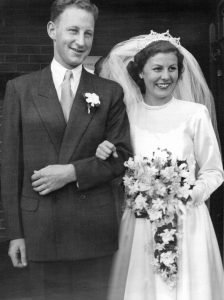 When she turned 16, Jeanette started work at a department store in nearby Croydon in South London. But two years later she joined the war as a Wren, quickly ending up in a navy centre in Mill Hill in north-west London where word was going around about "some sort of secret job".
The teenager was directed to a big table manned by high-powered officers. Seventy-three years later Jeanette can't remember the exact words uttered, but they were along the lines of, "we would like you to do an important job, but you must never let the secret out".
Saying "no" was hardly an option and, besides, "I was really excited". So she accepted the role and signed an official secrets document forbidding her to reveal or discuss any aspect of the job for 30 years, even though she had no idea exactly what she was meant to keep to herself.
And that's how it remained. Jeanette and a big team at a Ministry of Defence site in Eastcote in west London worked tirelessly in a vast room full of machines. There, living in dormitories with dozens of other young women, with no idle chit-chat, she indirectly and unknowingly linked with the brains of Turing and his associates at Bletchley Park – helping, in her own small way, to win the war.
The field of knowledge was cryptanalysis of German code, enabling the Allies to read secret enemy Morse-coded radio communications that had been enciphered using Enigma machines.
All that was a mystery to Jeanette – and it was only through the television programme that she was able to piece together exactly what her role had been.
"It never occurred to me to ask precisely what we were doing and why," she says. "In those days you did as you were told and you would never think of revealing a secret you had promised to keep."
At the end of the war, Jeanette got on with life – and soon there was a young New Zealand airman on the scene.
Keith had flown as a navigator for the RAF during the war and found Kiwi life and a job in a bank just a little tedious when he returned home. So back he went to London to study for a licence as a first-class navigator… and met Jeanette on the stairs of the place where they each flatted.
The young New Zealander rather liked what he saw: "I thought, yes, that's the girl for me."
He was drawn by her "radiance" and extrovert personality. The feeling wasn't entirely mutual. "To be honest, I thought he was rather gloomy," says Jeanette.
Keith gently protests: "Perhaps I was gloomy – but I had no licence, no job and no money!"
Letters to a sweetheart
Whatever, things worked out rather well. Keith got his licence and the jobs lined up, leading him to Australia, with long letters the only way in those days to keep in contact with his sweetheart. It helped, too, of course that he passed through London from time to time.
In the end, Jeanette became a "Ten pound Pom" and sailed to Melbourne soon after they became engaged to reunite with her beau. They married three weeks later, and two-and-a-half years after that they were on the way to Switzerland where Keith worked at a senior level for 11 years with Swiss Air and the couple raised their two sons.
An opportunity to join TEAL (the forerunner to Air New Zealand) came at the right time and the family arrived here in 1964 for the next stage of their rich lives.
Coming to New Zealand, to Mt Albert, was "the best thing we ever did," says Jeanette. "I found everyone so kind and natural."
Keith believes you get back what you put in, and that his wife is living testimony to that. "She just blossomed here… when she joins something, she joins to give something to it, not to expect something from it," he says, pointing to her involvement in the Baptist Church, St Johns and Probus. You could add a few more to that, too, like Alberton and the Historical Society, as well as raising her boys, working in a range of shop assistant roles and sustaining a British penfriend over 65 years.
As you'd expect, life is much quieter today – but more than 67 years of marriage and devotion means there are plenty of memories to savour, with no hidden secrets. Well, not these days anyway.