The bulldozers and builders will move on to Housing New Zealand's land at 33 Asquith Ave in January to finally start work on a development that by now should have been well-advanced.
When the construction crews come back from their summer holidays to start the project, it will be almost three years since the decaying old units were demolished and nearly five years since the last state tenants were moved out.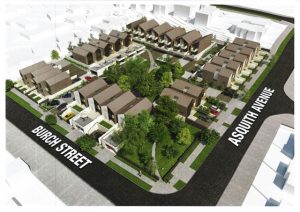 For much of that time locals have enjoyed what has become a neighbourhood park – perfect for walking the dog, flying a kite or kicking a ball.
But that is about to end: neighbours will soon be enduring the dust and the noise and it will probably be two years before it's all over.
Housing NZ is planning to tell neighbours this week that contracts for the job have finally been signed and work will begin sometime in January – probably mid or late month to avoid the Christmas-New Year break.
Fuller details have not yet been revealed, but the news confirms last week's Mt Albert Inc story that some sort of action appeared to be just around the corner.
Extra information is expected to be revealed this week in a HNZ newsletter to immediate neighbours. Mt Albert Inc has asked a series of follow-up questions and the answers will be given on this site.
It is now 20 months since HNZ unveiled their masterplan for the 8094sq m block:
·         Twenty four-bedroom homes (each of between 150-175sq m) to be sold to private buyers once the project is completed;
·         Twenty one-bedroom units (each of about 61sq m) to be allocated to state tenants.
At that time, the broad plan was to start construction in October-November 2016 – aiming for a finish in the winter/spring of 2018.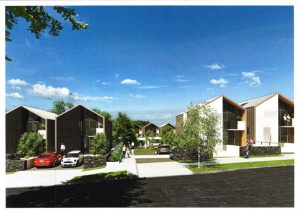 But the resource consent path took time and the tender round obviously did not go as well as hoped.
The result: eight or nine months to finally cement a deal with a development company partner.
The corporation has not yet confirmed that the mixed tenure approach and ratio will stay, but it would be a major surprise if there was a change to the ownership structure, even with the pressure to provide more social housing. It has always seen Asquith Ave as a model development, trying to successfully blend private ownership with state tenants.
Under the plan revealed in March last year, the four-bedroom homes would be built to high specifications. They would run along three sides of the perimeter – leaving a central green space ringed by a footpath leading through the "village".
The 20 units for state tenants would be in a block along the Maybeck Rd side of the land. The size of the apartments suggests they would probably be occupied by one or two people, perhaps elderly folk, those living on their own or people with physical difficulties.
HNZ originally suggested the development would take around two years to complete. On that timetable, private owners and state tenants may be in their new homes sometime early in 2020.
Bruce Morris
Earlier stories:
–          What an Official Information Act request finally revealed
–          Last week's story suggesting a start might be close