Mt Albert's last mayor, the late Frank Ryan, was an agreeable, pragmatic politician, with principles and conviction. Picture: Bruce Morris
Just three weeks weeks before his death in July, Frank Ryan heartily agreed to an interview with Mt Albert Inc. He wasn't in the greatest of health but that was his way, according to those who knew him best.  Mt Albert's final mayor was a generous man, always ready to help. Bruce Morris spent two hours with him that day and offers this insight into the life and times of one of Mt Albert's most famous sons
FRANK Ryan was barely out of his teenage years when he first thought he might like to be mayor. The inspiration, if it could be called that, came from a picture hanging on the wall of the Hamilton City Council offices he and his twin brother Tony used to clean to keep themselves afloat back in the very early 1950s.
The picture was of the Hamilton mayor, Harold Caro, evidently a great servant of the city from 1938 until 1953. But all young Frank could see was an old bloke with staid old ideas. Why did mayors and councillors have to be so old? Surely it was time for someone new, someone younger?
The thoughts stayed with him when he moved to Auckland in 1957 and were still there six or seven years later when – as a married man blessed with children and living in Mt Albert – he popped along to a couple of borough council meetings to see if things were more progressive in the big smoke.
He came away shaking his head.
"Most of them – what a pack of drones!" he remembered at our meeting in June. "They were wonderful people and I really liked them, but things didn't have to be run that way."
So Frank Ryan put his hand up and stood as a councillor in the 1965 Mt Albert borough elections – and won. What cheek! Who was this 33-year-old upstart interfering in the natural order of things?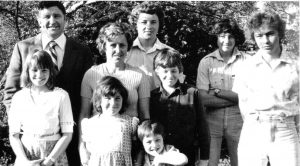 Well, the people of Mt Albert obviously liked what he offered. Just three years later (supported by wife Julie and with five children under the age of eight and two more not far away), he won the mayoralty, making him one of the country's youngest local body leaders.
Frank was known as an agreeable, pragmatic politician, with principles and conviction – and he was our last mayor. (Picture: Frank and Julie Ryan with their seven children in 1976. Actor Lucy is in front of her Dad.)
He was the man who led the borough to city status in 1978 and then, 11 years later, to amalgamation with the Auckland City Council. He didn't like the merger plan because he saw no efficiencies and Mt Albert was better placed with stronger reserves than other Auckland municipalities who were also forced into the partnership. But "we couldn't stop it; the Government was going to do it no matter what."
After amalgamation he won a seat on the expanded Auckland council and stayed in local government politics, doing what he could to promote Mt Albert's interests, until his retirement in 2001. By then, aged almost 70, he may have recognised in himself almost the same characteristics he had spotted in the wall picture in Hamilton council offices more than 50 years earlier. It was time to get out.
Tough times on the Coast
Looking back now on the life and times of Frank Ryan and his seven brothers, it's difficult to imagine a 20th century New Zealand family who may have suffered tougher times.
Frank battled various health issues in his later years and needed an oxygen feed to support his lungs at the interview, but his memory was sharp, his thinking lucid – and he still gave cheek to Julie, his wife of 57 years and his constant companion. He knew then that he didn't have much time left; doctors had told him "there's nothing more they can do for me".
But he was cheerful and comfortable, and happy to have a final crack at painting a vivid picture of a life well-lived.
The Ryan boys were introduced to life in Karamea on the wild West Coast and twins Frank and Tony, the youngest of the tribe, were barely toddlers when their mother died from septicaemia in the depression years of the early 1930s.
How father Timothy, juggling three jobs, managed to raise eight boys without a mum is the stuff honours lists should be made of (and Frank did offer the thought that his Dad was more deserving of the OBE he received).
But with some domestic help and a sister in Auckland who knitted and sewed to put clothes on the boys' backs in the wet and cold West Coast winters, Timothy Ryan somehow got through.
Frank was just five when, in 1937, his dad took the family north to Hamilton, and in 2017 he has no bad memories of Karamea or the coast. "I just remember running along the beach, finding crabs and throwing them at each other. And lots of time in the bush."
Hamilton was more hospitable, though, and the family settled on a small farmlet with plenty of room for chooks to roam, vegetables to grow and boys to stretch out.
Fighting and arguing
Life started getting a little easier, though Mr Ryan didn't find another partner. When the boys suggested he might enjoy the company of a new wife, he would reply, laughing: "Who would want to marry a man with eight boys fighting and arguing among themselves?!"
And there was certainly plenty of fighting and arguing – character-building obviously because the Ryan boys did their dad proud, though his death in 1952, aged 58, meant he did not enjoy watching their development as adults and family men.
All the boys went on to better things – Frank to local politics after time in insurance and real estate, others joining the forces and establishing successful private companies and twins Kevin and Gerald succeeding in law.
Kevin was a great criminal lawyer, handling a catalogue of high-profile cases. Right from his early school days he loved to debate and argue, says Frank, and he took that skill to the highest courts in the land.
Kevin and Frank each had a crack at national politics, with Frank standing for National in Mt Albert against Labour's Warren Freer. In the end, he missed out by just 247 votes in the Muldoon landslide of 1975, but he always wondered what value he got from Kevin in the campaign.
"We had this brothers' deal that we would work for each other, and this day he came over to Mt Albert to help me," says Frank. "I told him to take one side of the road and I'd take the other, door-knocking people and trying to win their votes. Well, I did my stretch of the road and then crossed over, expecting to quickly bump into Kevin coming the other way.
"But I ended up virtually right back at the beginning – to find Kevin still on the doorstep of one of the first houses, arguing away with the house owner!"
Pushing through the library
Frank's first major achievement for Mt Albert was to lead his council to the establishment of the library. It was an issue that had reared its head in the mid-50s when local enthusiasm for the project ran into the reality of a rates rise to pay for it. But it simmered away for years after and the young mayor and his council took advantage of a stronger balance sheet to finally usher it through.
Not that he had the support of everyone around the council table. "I think some of them thought I was just too young to come up with such a proposition, so they wouldn't have anything to do with it. They gave me hell. The attitude, perhaps not among all of them, was, 'we've had 100 years without a library – why do we need one now?'"
In the end, books won out in an administration that was prudent but progressive and known for its efficiency and civic vision. It didn't all end after amalgamation either: the Mt Albert Aquatic Centre, which he ushered in with the support of Auckland mayor Les Mills in the late 90s, was one more achievement.
And the Noise Control Act of 1972 had its genesis on the streets of Mt Albert when an angry mayor – summoned from a quiet family evening by ratepayers sick of the noise from a gang house – strode to the property and demanded an end to the racket.
The mayor was told to get lost, though in rather sharper language. But Frank had the last say: he took a remit to that year's local body conference and state legislation soon followed, giving councils the right to shut down unreasonable noise. The gang moved on.
Today, Frank shakes his head at the need for the 1989 amalgamation and the 2010 creation of the super city.
He understands the world couldn't sit still, but for Mt Albert the merger was "a bloody dismal failure – a farce. We could see what was going to happen. There were no savings and we got nothing out of it. We ended up supporting other areas that were not so well looked after."
Money down holes
The super city concept allowed "big things to be done" and he reluctantly accepted the Unitary Plan was needed to find room for the surging population, but too much money was disappearing down holes.
At the time of his death, Frank and Julie lived in Orakei, next door to daughter Lucy Lawless, the actress. They moved there four years ago from Preston Ave in Mt Albert that had been their home for 52 years.
Frank reckoned, with just the hint of a smile, they had never argued. Julie's "what?!!" is all that's needed. No one could imagine a Ryan boy not verbally tangling at some stage over 50-odd years, even with the wife he was devoted to.
They met way back in the mid-50s at a party ("I liked her blue eyes," says Frank) and it didn't take Julie long to see the measure of the man.
It was a dark, miserable wet night when he left the party, accidentally driving over – and ploughing up – a newly-laid lawn.
Back next day he came, apologising to the furious landlord – but with lawn seeds and labour to repair the damage. Julie was impressed and a little over two years later, in 1960, they married.
As Frank says, "there's a little bit of honour about me – you have to front up, don't you?"
People who met Frank Ryan, worked alongside him or asked for his help will know that's a classic understatement.
Daughter Lucy Lawless farewelled her Dad with a Facebook tribute that nicely captured his contribution to life: "… we celebrate his life, his many kindnesses and his public spiritedness. From humble beginnings, he made a sensational job of it. He was lots of fun. Shine on!"