The discovery of lava caves and old bones has conspired to further push back deadlines on the Housing New Zealand development in Asquith Ave.
The site is already one of the most fraught in the HNZ stable, with work finally starting in January after a series of delays following the demolition of the old units in February 2015.
Before the construction teams set up, the corporation had pencilled in February 18, 2019, as the completion date for the 20 single-bedroom state housing units that will share the site with 20 four-bedroom private homes.
But nothing has moved at pace on this development.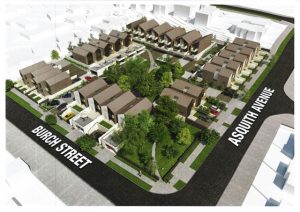 Now, after the completion of full site works to prepare for the actual building on the 8094sq m block at the corner of Burch St, it will be the winter of 2019, perhaps as late as August, before the first tenants move in.
The base work on the social housing blocks on the southern boundary has started. But the full range of civil works – including power, water, stormwater and drainage – will not be completed until mid-October.
Only then, after landscaping and the creation of an access lane and carparking, will the land for the 20 private homes be sold to a private developer.
The assumption is that a developer will stick to the original – and consented – plans for those homes rather than invest more money and time for fresh resource consents that might not be granted, especially if they are radically different..
But whatever approach is taken, it would seem optimistic to imagine the private homes will welcome new owners before early 2020.
Heritage NZ and the police were called in after the discovery of bones during the construction of a retaining wall on the southern boundary, but they were quickly dismissed as "innocuous". The theory is that dogs used the spot as a hiding place for old animal bones.
But the lava caves, part of a well-established network running beneath Mt Albert, required deeper examination.
A spokesman for Build Partners, HNZ's construction partner, said the caves were discovered in small "bubbles" across the site.
A wide range of specialists, including geologists, engineers and heritage investigators, were called in.
The result:
Unlike some of the caves in the suburb, these had not been used and had no particular heritage value;
Geological testing with engineering overlay showed the caves offered very strong foundation support and did not need to be broken up or filled.
The discovery required a change in the resource consent dealing with foundations.
The good news now for locals: virtually all of the rock-breaking work is over, ending the loud noise and vibration.
But the normal construction site activity is about to step up – and it may be the autumn of 2020 before it finally ends.
Bruce Morris
Last story as the contractors moved in
Full backgrounder on the Asquith project