Roy Clements feels proud and humble when he returns to walk the treeway named after him. But he insists he was one man in a team of people that made it happen. Captions for other pictures are at the bottom of the story.
By Bruce Morris
When Roy Clements was a little bloke, he came from the family farm in Matamata to visit his Great Aunt Adele in Ruarangi Rd on the slopes of Mt Albert.
It was around 1941 and seven-year-old Roy — on the first of many holiday trips to the big smoke — looked out across the open terrain skirting Mt Albert Grammar to a wasteland of swamp and gorse bisected by a dirty little creek.
Thus began an association with an ugly strip of suburban Auckland that has now endured for almost 80 years and blossomed into something rather special.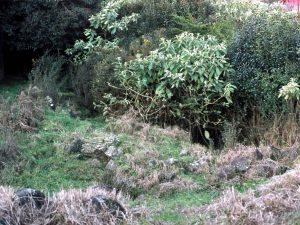 Stand today where Great Aunt Adele once lived and an entirely different landscape unfolds: a small urban forest hugging the school's lower sports fields alongside a stream that is being given a future. Sharper eyes may even snare a glimpse of a raised wooden pathway meandering through a peaceful Mt Albert sanctuary.
Get up close and the links to 1941 are written on the signs leading to the path: Roy Clements Treeway.
What a difference a few decades can make — and what a difference one man can make.
So how did it all happen? How was that wasteland of the 30s and 40s — and, really, right through to 1980 — turned into a forest-and-wetlands green belt for us and other creatures to appreciate?
A small group of community volunteers, with useful support in important places, helped to give the initial impetus, and the good people of the St Lukes Environmental Protection Society (STEPS) have since become caring guardians watching over the future.
But so many great things begin with the commitment of one person, and when the path alongside Meola Creek was created in the 80s and 90s — and given a lift 10 years ago with the raised wooden platform to keep visitors' feet dry when the waterway floods — there was never any doubt it would be named after Roy Clements.
The story of the treeway may have its roots in the 1940s, but the close Clements connection didn't really begin until Maurice Hall, MAGS headmaster from 1970 to 1988, lured Roy back to Mt Albert.
Roy's first job, after graduating from Auckland University in 1956,  had taken him to Te Kauwhata District High School in the Waikato. Later, theological studies at St John's College led to curate positions in Waikato churches, followed by five years in Wellington as general-secretary of the Student Christian Movement before he arrived at MAGS for his first stint there as a teacher, of English and music, late in 1969.
Two years later, Roy was off to explore the world, stopping here and there in Asia before a 10-month teaching spell in a challenging London comprehensive school. After that, the prospect of teaching English in Germany held a certain appeal and he stayed for four years before drifting back to New Zealand … and getting a phone call in 1979 from Maurice Hall.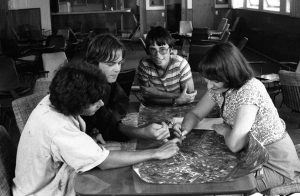 The headmaster's priority was to invite Roy to rejoin the MAGS teaching staff, but he soon found his enthusiasm went wider than the classroom. In a land that was starting to understand the importance of the environment, both men were "green" almost before it became fashionable.
Their first venture — planting 60 donated trees along the school side of the stream — wasn't too successful. Most were gone in a week or two, stolen or "accidentally" knocked over by unsympathetic ground staff.
But the second assignment was rather more enduring.
"That land down on the other side of the creek — we don't need it for grazing anymore," the headmaster told his ally. "I know you like to plant trees, so why don't you go down there and see what you can do."
So off Roy went to investigate the narrow, winding strip of Education Ministry-owned land that had no practical value to the school because of the dirty little stream that separated it from the lower playing fields.
The land was as narrow as 10m in some parts, though stretching 30m or 40m for much of it, and it was tough, rocky territory where noxious plants such as privet, woolly nightshade and gorse had made their home.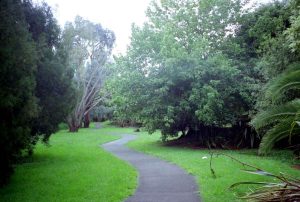 Roy rolled up his sleeves and got stuck in, inspiring students to add their muscle and embrace his vision of creating a forest on suburban wasteland.
Bit by bit, the land was cleared, with holidays and weekends sacrificed to advance the project and a generous headmaster sparing him five hours a week from teaching duties to work on the patch, often with students at his side.
After the clearing came the planting, and then the creation of a concrete path. The work was never-ending; as a labour of love, it was all-consuming, especially in the important first five years before a range of others joined the initial force and kept up the momentum.
All projects need a champion, and Roy Clements was the organiser-in-chief who got the ball rolling before sharing the toil. Even when he left MAGS in 1994, he maintained a strong interest in progress. Today, the land might be occupied by light industry and factories were it not for the influence of him and his merry band.
He insists it was all a team effort, and the project owes much to the endeavour and support over the years of groups of local volunteers, workers on Government-funded temporary employment schemes, generous nurseries and professionals, enthusiastic botanists and local body experts.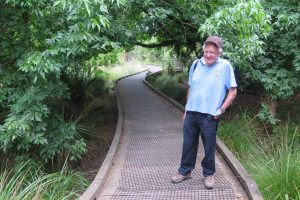 Then, of course, there was a supportive headmaster and the students who worked alongside their teacher.
If taking kids away from studies or footy practice to work on a pet project seems a bit unorthodox, no one was complaining.
Back in those days, MAGS was seen by critics as some sort of cultural desert, with perhaps too much focus on sport. Roy Clements did his bit to help change that through music … and the environmental focus of the treeway.
"I think back then, much of the spirit of the school, the pride associated with going to the school, flowed from the sporting fields," he says. "By creating things and involving the kids, I think we gave them a different sense of pride and that was very healthy and rewarding."
These days, the future of the treeway is secure, even if some self-seeded "noxious" trees — and the scourge of graffiti — can take a little away from the dream of perfection. The community volunteers of STEPS run the working bees (go to their Facebook page to lend a hand) and fight for the future of the creek and the forest; Auckland Council maintains the land.
Walk the treeway in 2018 with its architect — through the manuka, totara, nikau, karaka, kahikatea and chatter of birds — and the pride is clear.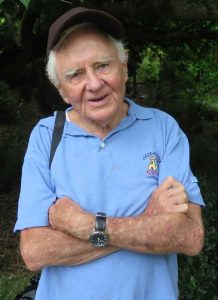 "It is," he says, "very humbling to come here and see how it has developed, how trees we planted 40 years ago have helped to create something special."
Roy now lives in East Auckland, where, as a former president of the Civic Trust and after a life-long commitment to community, he continues to do his bit on local projects.
But he likes to pop back to Mt Albert every month or two to see how things are coming along, finding it "very restful" to wander through what he helped to create.
He's always impressed and gratified at the dedication of STEPS members in tending the forest and wetlands and keeping the stream as clean as they can — and, as an old teacher, he's impressed, too, with the manners of the local school kids.
"They see this old hobo wandering along and they are so polite and friendly," he says.
It could be they know a quality hobo when they see one.
CAPTIONS (from the top): Woolly nightshade, gorse and privet pictured in 1979 — the site is now restored as "lava rock forest"; the Alberton Ave end of the strip of land in 1979; Auckland Regional Authority staffer Mary Buckland, who drew up a plan that year for developing the land, pictured discussing it with seventh formers (from left) Jeff Meyer, Brett Wilkie and Darren Davis, who spent the summer working on the project under a special student employment scheme; the concrete pathway pictured in 2001; Roy Clements on the raised wooden pathway that enables walkers to keep their feet dry when the Meola Creek floods; Roy Clements today.