Marcelo Bianchessi came all the way from Brazil via Portugal to bring Mexican cuisine to Mt Albert.
It may sound an odd trek to deliver one of the world's most popular food choices to a local audience. But Marcelo (pictured here), one of the two Brazilians behind Taco Loco café at 847 New North Rd (where Sprout once lived), reckons it will all be worth it in the end.
He left Brazil in 2002 in his mid-20s and headed for Portugal, where he got on-the-job training as a chef. Three years later, with valuable kitchen time behind him, he was back in his home country – and quickly deciding he had to get out and see more of the world.
He settled on New Zealand, coming here to learn to speak English, and found himself in the kitchen of a Ponsonby Rd restaurant for six years, teaming up with fellow Brazilian Roger Mordes.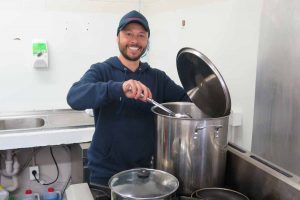 They both loved Mexican food (taste buds provoked by Roger's three years in Mexico) and, with cooking guidance from two Mexican friends, started testing Kiwi palates at Auckland night markets in carpark buildings across the city. But on top of day jobs, it was a lot of work for small reward.
So they turned to a cheap caravan (bought on Trade Me, of course), refitted it as a food wagon and found much more in their pockets by plying their Mexican food trade at events and markets and catering for special occasions
Long story short: the food truck became a regular at the Mt Albert Friday night food market and the lads, with supportive wives, jumped at the chance to take up the Sprout lease.
They started trading in a low-key way, serving just coffee for the first week or two. But now they've moved to stage two: seven-days-a-week (6.30am-3pm Monday to Friday; 8am-3pm Saturday and Sunday) for breakfast and lunch with menu items like huevos rancheros (eggs, tortilla and beans), quesadillas, tacos, chilli con carne and, of course, nachos.
Stage three is just around the corner – opening Friday nights to coincide with the regular food market and then, when summer arrives, they hope to extend evening trade to Wednesday-to-Sunday, closing about 10pm.
No liquor licence yet, but it may not be too far away. Marcelo is anxious, though, to let locals know he's not setting up a pub.
Taco Loco ("crazy taco") will in time be a relaxed family-oriented café where people can enjoy a beer or glass of wine with their nachos and quesadillas. He's aiming for a bubbly, friendly atmosphere with reasonable prices where everyone is out the door by 10pm.
"The food will be everything – the best fresh ingredients with the Mexican flavours we have spent a long time perfecting," says Marcelo. "I make the best chicken quesadillas!"
Are he and Roger just a little worried that locals won't take to their version of another country's cuisine?
"We started with no money and we learnt a lot as we went along," he says. "It was a struggle. But we know the food we make is great and we also know that everything is going to be all right."
Bruce Morris