Summit Drive is our most expensive street – with individual property values ranging from $1.83m to $4.1m. But the priciest Mt Albert properties are in other streets.
When the real estate people get their hands on the most expensive residential property in Mt Albert, they won't be talking about its great street appeal… because it doesn't have any.
The suburb's priciest lump of land is tucked away out of sight – a fairly anonymous entry to a property that now carries an Auckland Council capital value of $6.8m.
That valuation was up 86 per cent in the new CVs revealed last week and the coming rates bill will be a big step up from the present $10,217. There's unlikely to be much change out of $12,000 in 2018.
The place is not for sale, so the real estate agents won't be writing any fancy ads just yet. But the central reason for the big jump in the valuation is the block of land the five-bedroom house (with pool and tennis court) sits on – and why its days as a family home are probably numbered, depending, of course, on the view of the owners .
This is no ordinary suburban section. It covers 5300sq m – eight or ten times bigger than a decent-sized plot elsewhere in the supercity – and it will have huge appeal to a developer under the provisions of the Unitary Plan.
The land is zoned terraced housing/apartments and the potential is enormous. The present owners may be happy to stay there indefinitely but, if they ever want to sell, the developers will be queuing – ready to build a stack of apartments or terraced houses.
The $6.8m property came up in a search through the new valuations by Mt Albert Inc, and we've chosen to keep the address to ourselves to protect the owners' privacy.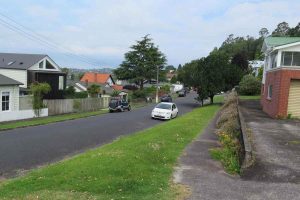 But we're happy to reveal the results of the key purpose of the search: to discover Mt Albert's most expensive streets according to average value.
It's hardly a precise exercise because a number of smaller units in a pricey street can have a big impact on the overall average. Because of that influence, prime streets like Allendale Rd and a number of others in the northern lee of the mountain don't quite figure.
On the other hand, a small street with no units is at an advantage in an exercise like this, and helped Oakfield Ave into fourth spot on our list with an average valuation of $2.39m – just behind Ferner Ave at $2.42m and a notch above Stillwell Rd's $2.26m.
Filling number two spot – again, a street with no units to drag down the average – was Sadgrove Tce (pictured) with $2.47m, and top of the local property league was Summit Dr, with an average property value of $2.6m (with individual homes ranging from $1.83m at the lowest level to a top of $4.1m).
Within the so-called real estate "golden triangle" – the area on the city-side of the mountain wedged in by Mt Albert Rd, New North Rd and Alberton Ave – properties excluding units now generally range between $1.6m and $2.2m, with a group above $3m and one in Lloyd Ave (covering 2233sq m) at $4.45m.
The roads around the mountain – north of Richardson Rd, and between New North Rd, Mt Albert Rd and Owairaka Rd – showed a uniform spurt in value. Most properties there were up an average of 53-58 per cent since the last CV round in 2014, and some had risen around 70 per cent and higher (against the overall average for Mt Albert of 49 per cent).
South-west of Richardson Rd through to Hendon Ave, values were around or just above the Mt Albert average – generally ranging from 47 to 51 per cent, with pockets in the late 50s.
To the north west of New North Rd through to Carrington Rd, the new values tended to be a little below average, though there were plenty of  individual properties that rose above 50 per cent. East of St Lukes Rd also brought down the overall Mt Albert average but, again, there were patches with higher values.
Only valuers could explain some of the final figures – like the odd place up by 60 percent per cent as next-door neighbours pondered a new CV of 37 per cent.
The latest valuations also showed that Mt Albert house prices don't all go up – with one local street sitting in the small supercity list where prices have fallen in the last three years.
Morning Star Pl is home to 279 apartments and they have dropped in value by 27 per cent on average since the 2014 adjustment.
Why hasn't the precinct opposite St Lukes ridden the surging wave caught by the rest of Mt Albert?
Part of the answer at least came in a mortgagee auction this month when a two-bedroom apartment with a 2014 CV of $375,000 sold for $278,000 – a drop of about 26 per cent.
These words in the real estate agency advertising gave a clue: "Weather tightness issues".
Bruce Morris
Link to earlier story on the Mt Albert valuation rises
To find the new capital value for your property, go to the council website and key in your address.