Amos Muzondiwa was a beer brewer in his native Zimbabwe before turning to what he calls the "religious industry". That change of direction brought him to New Zealand – and to Mt Albert's Methodist Church. PICTURES: JULIA THORNE
Amos Muzondiwa is the reggae-loving presbyter for Mt Albert Methodist Church – arriving in New Zealand from his native Zimbabwe in 2008 and working at Inglewood United Church in Taranaki before reaching Mt Albert in 2015. He is married to Nyembezi and they have two teenage girls, Shalom and Takunda, and Ben who is six. Amos, who has a stack of university degrees from the University of Zimbabwe and Otago University, was a researcher, high school teacher and a beer brewing company chief chemist before moving into the "religious industry".

So how did you get to Mt Albert?
Having been in the teaching and food production industries for a sufficiently long time, and having done my bit for church and community in a small rural town (Inglewood), I felt I would love the challenges of a big city life. After all, the former Prime Minister was from Mt Albert, so why not go and live around there? (and now we have a new Prime Minister living here). Who knows how fortune knocks at a man's door? That's how I decided to come here.
Tell us about your childhood
I was born in Zimbabwe, in a very small rural area called Shurugwi, as the eighth child in a large family of six boys and six girls. That's about a whole soccer team and a substitute. Enjoyed herding cattle, fishing and hunting as well as making some trouble for the rest of the family. I was just about the naughtiest kid, they tell me.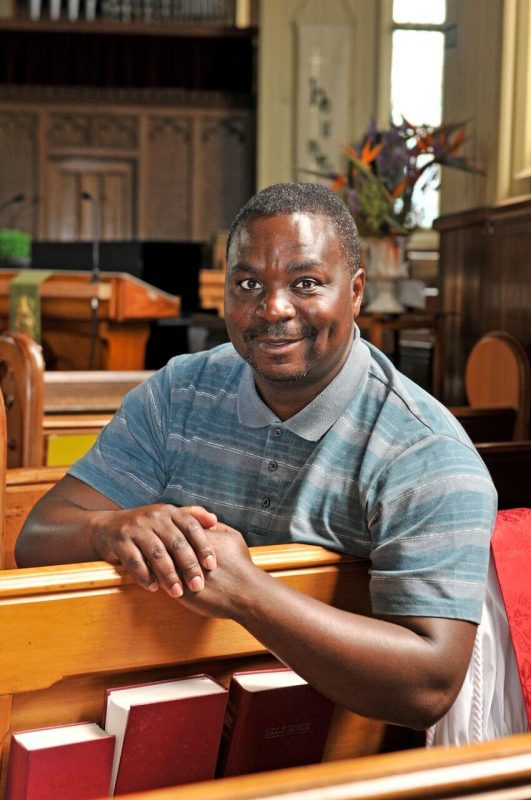 Your first job?
I cannot say exactly what my first job was because as a university student I always worked as a temporary teacher or research assistant. There were very few qualified teachers [in Zimbabwe] to fill the vacancies created by a changing Government policy at the time. But my first real job was as chemist, in the central laboratory of Chibuku Breweries. I hope you will not ask me more questions about brewing, drinking or some such pranks a young man may pull and find himself in deep trouble for! It was challenging, very rewarding and fulfilling (for those serious with life at the time).
The most uplifting moment of your life?
A two-way tie here between the day my wife said yes to me and the day our first daughter Shalom, was born. I was there all the way through to be the first to receive her, after the midwife.
The saddest?
I lost my closest sister, Mosline, in a very tragic case of heart failure while she was on a working assignment in England. Away from home and family. All on her own. I still cannot [easily] go through the 11th November each year.
Things you've learnt about life that you will take to your grave?
To love other people and to do for them exactly as I would love they do to me. I cannot think of any better lesson than this.
What's made you very proud?
Being able to recognise people as equals. This recognition involves respecting the dignity and equal worth of every person and valuing their contributions, or at least their potential contributions to the larger community.
What makes you damned angry?
Violence and exclusion of other people. The exclusion may be in the form of elimination or its cousin and benign form called assimilation. Sometime exclusion happens in the form of domination of others or as simple abandonment. It makes me very angry to see other human beings pushed to the margins of global civil society.
What could you not do without?
I am a disciple of the old adage, "I am because we are, and we are because I am". A human being is a social animal and craves for healthy relationships with other people. This just describes me. I cannot do without community.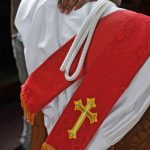 The thing you have always wanted to crack but haven't yet managed?
When I was young, I always said I would like to become a medical doctor. As a teenager I soon realised that I could not become one. My interest in the medical field was growing weaker and weaker and at school my best subjects were turning out to be those in the area of humanities. So, I made up my mind that one day I was going to try a doctoral degree and investigate hospitality as a unifying factor in societies. Many years have passed, I have had numerous opportunities to engage in this study, but… well, maybe some day!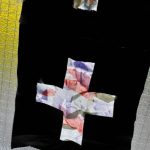 Who are the people (past and present) you most look up to?
Mother Theresa, John Wesley, William Wilberforce, Dietrich Bonhoeffer and Nelson Mandela. All in the past. Ask me to choose the most influential and, well, it would have to be John Wesley and his famous words (with some abbreviation), "If you cannot relieve, do not grieve, the poor. Give them soft words, if nothing else. Abstain from either sour looks or harsh words. Let them be glad to come even though they should go empty away. Put yourself in the place of every poor man; and deal with her/him as you would the divine deal with you". Of people today, my mother obviously. She repeatedly taught me this, "if you have nothing good to say about another person, keep quiet." And I have a lot of respect for the former Prime Minister Helen Clark.
What personal frailty in others do you most detest?
A nostalgia for the security in the womb of a safe sameness. I have problems dealing with people who are scared of diversity. It could be diversity in opinion, race, faith and/or ideology. I find it hard to deal with people who show a longing for the homogeneous and an allergy against the different, the other. It was Desmond Tutu who taught me some years back that "life is more exhilarating as you try to work out implications of situations rather than living by rote, with ready-made second hand answers, fitting an unchanging paradigm to a shifting changing, perplexing and yet fascinating world".
What about yourself – do you have flaws you wish weren't part of your make-up?
In a way every person is a product of society. The society that brings you up also forms and frames a worldview for you – a worldview that may prove difficult to shake. For me, brought up under a highly prescriptive Christian belief system, I still tend to prioritise belief formulations at the expense of doubt, deconstruction and exploration. There is still a stubbornness in me that tends to rush towards drawing boundaries and setting limits to certain liberties and freedoms. I have heard my children say, "hey Dad – you are a fossil!"
Describe your perfect weekend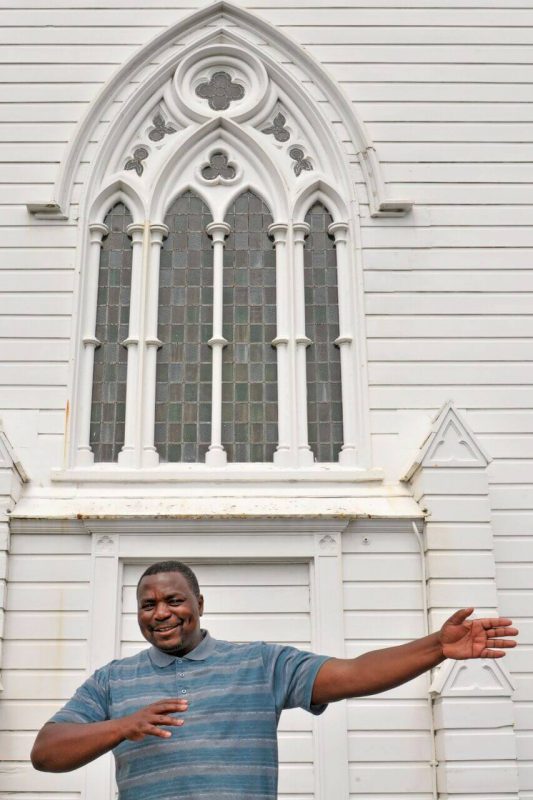 I am a family-and-friends man. But I am also a people person. So a time with family and friends obviously makes for a perfect weekend for me. All the other issue are a bonus so here we go…. I am not a morning person so waking up late (even 9am can be early for my liking) to a late full English breakfast at our favourite busy cafe is not bad. This to be followed by some play in the garden before driving out to meet with friends and family over a barbecue and good conversation is a dream. Nice weather, family and laughter is what keeps me younger. Some time off to the gym or casual meditative walk up to the summit of Mt Albert before coming back to a quiet evening of watching soccer/rugby, and hoping a good game is on TV. That makes a perfect weekend for me.
And the dream holiday if money was no object?
If I ever win a lotto, then I would like to travel around two countries with very rich traditions – Italy and France. It would be impeccable experiencing the wonders and cultures of a myriad of places… the Colosseum in Rome would give me the opportunity to imagine myself taking part in an animal fight. I would also love to visit Milan, the fashion capital, and enjoy the latest fashions on display – and foolishly imagine myself as one the new top fashionistas. It would be a dream to visit Florence and enjoy the best of yummy Italian food for a while. In France I am thrilled by the possibility of seeing the Eiffel Tower. I am fascinated by the unbridled joy of going to the highest point you are allowed to go and to take some nice snapshots of memories. That would be my dream holiday and I continue to dream that one day I will be able to travel to these places and have all the fun!
What about that magic dinner party – who would share your table?
Friends and family, yes, but maybe the Queen as well.
What would be on the menu?
A smorgasbord involving my favourite fried rice, roasted chicken, fish and spring rolls. Dessert would be the Kiwi great pavlova served with some French vanilla ice cream.
And the music in the background?
You may not believe it but it's true – reggae music from the booming voice of the father of reggae himself, Bob Marley.
What about books and writers – what/who will stay in your mind until your dying day?
Alan Paton, author of the novel Cry the Beloved Country, first published in 1948. This book was the very first novel I read and it captured as well as formed my sense of social justice and fairness.
Watch much television? Favourite shows?
I watch a lot of television, but no movies. In fact I cannot think of ever watching a movie to its conclusion. I'm into soccer and watch every possible game involving Chelsea, Real Madrid, Wellington Phoenix, the All Whites and the Brazilian national team. And rugby – all games involving Highlanders, Hurricanes, not to mention the ABs. This just about takes all my time on TV. Apart from these I also watch other sporting activities such as cricket, netball and athletics. Then there is Shortland Street and all the cooking competitions.
What are your biggest concerns for the future?
There are three things that worry me a bit going into the future: global warming and its likely effects on communities; the continued threat of global terrorism and the grave consequences likely to arise from super bugs should the continued quest for new and stronger antibiotics continue to be elusive.
What do you particularly like about Mt Albert… and/or hate?
The people of Mt Albert are for me very open and civic-minded – polite but sincerely nice. Apart from the hospitable and peace-loving people, I enjoy the space, fresh air and relative quiet in Mt Albert. I am thrilled by the plans of a more sophisticated urban design of the Mt Albert village centre. For now it's a dream that's giving me something to look forward to. Not sure I like the traffic congestion that's resulting from the project, though.
If money was no object, what would you spend it on to make Mt Albert a better place?
Three things: a shopping mall capable of challenging St Luke's Mall with underground and high rise parking space; a [new] primary school and an underground road network linking the area to both the North Shore and South Auckland.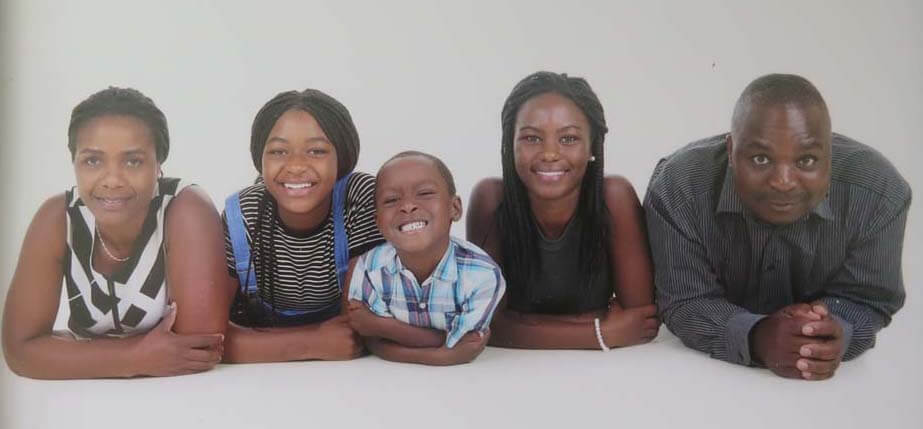 From the Muzondiwa family album: Nyembezi, Shalom, Takund and Ben with the Dad who is sometimes referred to as a fossil!