Steve Gough has four young children but somehow found time with wife Anna (pictured below) to also create Albert's Post in the Mt Albert village
Steve Gough is a 42-year-old ex-chartered accountant who set up Albert's Post with wife Anna (with heaps of support from Anna's dad Lloyd) last September. He's lived around the world, settling in Mt Albert in 2004 and lists his passions as bikes, beer, family and generally being active. The Goughs have four children under nine
So how did you get to Mt Albert?
I grew up and went to uni in Wellington.  I really didn't want to fall back into my old life when I returned to New Zealand after three years living in Amsterdam so thought I'd give Auckland a go. I couldn't afford to buy a place in Mt Eden so I moved into Mt Albert. I think that was the best non-decision I ever made!
Tell us about your childhood.
I was raised in the Hutt Valley.  It was a pretty straightforward existence with lots of freedom (I was the youngest!) and plenty of opportunities to hang out with friends and play sports.  I was lucky enough to have loads of cousins living nearby so I spent lots of time doing stuff with them too.
Your first job?
I graduated from delivering the Hutt News to working in the deli at the shiny new Foodtown.  Lots of my friends had jobs there as well so it never got too boring facing up the chiller with milk, cheese and yoghurt.  It was awesome making my own money for the first time but I do remember my first pay rise of 7c an hour was a bit of a let-down.
The most uplifting moment of your life?
According to Anna, it was getting married. Therefore, it was getting married.
The saddest?
There's been plenty of ups and downs but nothing in particular stands out. I always remember my Grandma showing me the photo of her baby brother who never came back from the war.  I'm very thankful we live in an era of relative peace and prosperity and try not to take it for granted.
Things you've learnt about life that you will take to your grave?
I'm totally hopeless at keeping track of things and am happiest when I don't have too much. During my first summer break from uni I caught the ferry across to Picton and then spent a month riding a bike around the South Island. I had to lug everything I was carrying up the hills so got very good at living with less. It was an awesome experience and taught me how much happier I am when I don't have to deal with superfluous stuff.
What's made you very proud?
Opening Albert's Post has been a huge achievement for me. It's been massively challenging, scary and rewarding all at the same time. I joke about it being my mid-life crisis!
What makes you damned angry?
Waste of any sort.  This can be a real conflict when it comes to getting rid of all the stuff I'm not using!
What could you not do without?
All the great people in life – my wife and family first, but also my friends. I love the countless meaningful (and meaningless) interactions with others I have through life.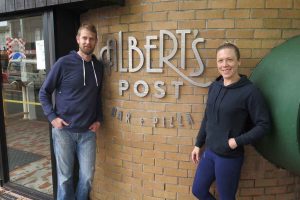 The thing you have always wanted to crack but haven't yet managed?
I've been harping on about getting chickens for a long time now but just haven't got around to it. I've also had a long-standing goal of finishing the round Taupo bike race in four-and-a-half hours. I've come close a few times but never quite cracked it. I know it gets harder every year I don't do it!
Who are the people (past and present) you most look up to?
I'm a history fan and have read enough to be very wary of putting people or ideas on pedestals. That said, I admire people who have the get up and go to follow through on their ideas. Recently, I was lucky enough to meet Richard Emerson who, despite being profoundly deaf, had the nerve to start his own brewery in Dunedin back in the nineties. He has been massively influential in reintroducing Kiwis to what great beer should actually taste like.
What personal frailty (in others) do you most detest?
Passivity/laziness – life's too fleeting to waste.
What about yourself – do you have flaws you wish weren't part of your make-up?
I wish I didn't lose my keys all the time.  I'm sure Anna can supply you with loads more.
We all have regrets – what are yours?
I regret being so focused on my career pre-children.  I could have squeezed in way more adventures.
Describe your perfect weekend.
Coffee, my wife and family, friends, biking somewhere, a quality beer, good food that someone else has made (I hate cooking), great sales stats from Albert's Post…
And the dream holiday if money was no object?
At this stage of life it would be a six-month odyssey around New Zealand with my family. I'd love to ride the national cycle trail end-to-end while the kids are still interested in doing it with Mum and Dad.
What about that magic dinner party – who would share your table?
That's a tough one – maybe I'd bring back both the Michael Jacksons so we could talk about music, beer, and the price of fame.
What would be on the menu?
Food I didn't have to cook or think about.  Fresh, simple high quality ingredients matched with beer – maybe a nice steak and fresh salad.
And the music in the background?
Gorillaz, Lemongrass, Fly My Pretties – something new and interesting.
What about books and writers – what/who will stay in your mind until your dying day?
I don't think I've managed to read a book since I became a parent – sad but true.
Watch much television? Favourite shows?
I don't have a lot of time for TV – a guilty pleasure of mine is watching documentaries on Netflix, though. I really enjoyed Ken Burns' The West recently.
What are your biggest concerns for the future (locally and elsewhere)?
That we leave the world in as good a shape as we found it. Mindless consumerism bothers me – both the environmental impact and because it is such a waste of all the time-saving benefits economic development has given us.
What do you particularly like about Mt Albert… and/or hate?
I love the location and how well connected Mt Albert is – almost everything our busy family needs is to hand here, meaning we don't spend a lot of time travelling. I love the history and sense of community as well and have made great friends locally.
If money was no object, what would you spend it on to make Mt Albert a better place?
I'd knock over the entire Video Ezy block and build a tasteful apartment building with views to the Waitakeres and direct access to the train station. With all the money from selling the apartments I'd develop really nice retail and community spaces along the street level with views to the facades of the old buildings across the road (which I'd also have the money to restore). Oh, and I'd make sure there was heaps of room for a massive Albert's Post brewery, of course.
Mt Albert Inc's story on the Goughs when Albert's Post opened