Jon Wild is the man behind the Mt Albert Saturday market and the Friday food trucks. Without him they wouldn't be there. He's 39, married with three "nippers" and comes from the UK – drawn here by his Kiwi wife.
Jon started the market four years ago when he spotted the "for lease" sign and saw the potential. His mind went back to holidays in France when he was a kid. "I loved how every French town we went to had a local market every week – full of the most amazing fresh produce," he says.  "I loved the noise and the buzz and marvelled at how each market brought the whole town together. The French have an amazing sense of community and there is a lot we can learn from them – and that is tough for an Englishman to say!"
So how did you get to Mt Albert?
I met my amazing wife Amber in a London bar watching the ABs. She's from Christchurch so we moved back there in 2010. Unfortunately we arrived just before the ground got a wee bit shaky, and when she fell pregnant we decided to up sticks and come to Auckland. We had friends in Mt Albert and they recommended we come here. We loved the suburb as soon as we arrived – the sense of space and the family-friendly vibe was precisely what we needed with the troubles we had after the earthquakes.
Tell us about your childhood
I grew up in a very loving family and eating well was always a priority. My parents were always in the kitchen and I grew up helping them prepare the family meals – so food has always been an important part of my life.
Your first job?
I worked in a massive T-shirt printing factory in the UK– folding thousands of T-shirts daily. I didn't enjoy it but it gave me the motivation to work hard so I wouldn't have to work in a factory again.
The most uplifting moment of your life?
The births of all our children (we have three nippers – Billie, Otis and Victor) … and also the moment when my wife said 'yes'. That will live with me forever. I was a nervous wreck beforehand!
The saddest?
Leaving my parents behind in the UK. It's pretty tough moving to the other side of the world and raising their grand-children away from them. I feel guilty constantly for not being closer to them but I believe NZ is the most amazing country to raise children and I feel very fortunate with the way things have panned out. If you had told me 10 years ago I'd be living in New Zealand with three children and a beautiful wife I'd have called you crazy.
Things you've learned about life that you will take to your grave?
If you are not happy with something then change it. Don't live with regrets – life is too short.
What's made you very proud?
Getting Mt Albert Market up and running. It was immensely difficult to start up and I was worried we wouldn't make it past the first year. Then one local came up to me and told me that she hadn't spoken to her neighbour for over 10 years but now chats to them every weekend at the market. That really brought a tear to my eye and gave me the motivation to keep going.
What makes you damned angry?
Drivers running red lights. Even bus drivers do it in Auckland. It's got even worse over the past year. It infuriates me.
What could you not do without?
My family… and beer!
The thing you have always wanted to crack but haven't yet managed?
This may sound arrogant but I tend to succeed if I give something a go. I don't give up until I have cracked it.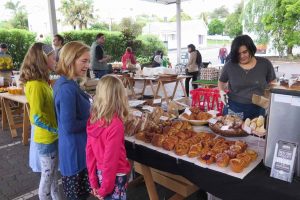 Who are the people (past and present) you most look up to?
My father. He came from a very poor background in Northern England and did everything he could to give my brother and me the best chance in life. He worked abroad for most of our childhood so that we could get the best education. He's a true inspiration.
What personal frailty (in others) do you most detest?
Quitting. I find people who give up easily particularly frustrating. Anything and everything is attainable – if you really want it.
What about yourself – do you have flaws you wish weren't part of your make-up?
I have heaps of flaws and I work on trying to be a better person every day. Sometimes I don't get it right – but I try to learn from every mistake I make.
Describe your perfect weekend
Friday night – drinks with friends; Saturday morning – visit a farmers market; Saturday arvo – Family walk; Saturday night – curry and watch rugby; Sunday morning – skype with family in UK; Sunday arvo – play football; Sunday evening – family dinner: BBQ steak and salad
And the dream holiday if money was no object?
A six-month tour of France. Every region is different and has amazing food. I'd start in winter with skiing in the Alps, do a barge trip on the Canal du Midi in spring  and end with summer on the Mediterranean coast.
What about that magic dinner party – who would share your table?
My best friends from school. There's 10 of us and we are extremely tight. It's tough being half a world away from them.
What would be on the menu?
Something simple, fresh, local and amazing.
And the music in the background?
Oasis – the soundtrack to our teenage years.
What about books and writers – what/who will stay in your mind until your dying day?
Bryce Courtenay – The Power of One. Such an inspirational story.
Your favourite movies?
James Bond. Always.
Watch much television? Favourite shows?
I am a sucker for reality TV. I love watching regular people – I find their stories a lot more interesting than watching actors performing.
What are your biggest concerns for the future (locally and elsewhere)?
I worry for my children growing up in the digital world.
What do you particularly like about Mt Albert… and/or hate?
I love the sense of space in a central suburb.
If money was no object, what would you spend it on to make Mt Albert a better place?
I'd build the world's largest waterslide from the top of Mt Albert to the sea. I love water slides.