Zoë Nash is an artist and lives in a creative Mt Albert household – sharing with a partner who writes children's stories and works in radio, two children, a Siamese cat, and a "rather naughty terrier" fond of chasing rabbits down Oakley Creek. As well as working on her own multidisciplinary projects, Zoe teaches part-time at Browne School of Art in Grey Lynn, and regularly works for Design Assembly (who operate from a small space close to Mt Albert Mowers & Cycles).
So how did you get to Mt Albert?
I originally lived in Mt Albert in the early 1990s. I'd just left uni and had taken up a short-term really crappy admin job at Auckland College of Education over the summer. This job quickly evolved into a substantially better full-time position, and I enjoyed three years at Taumata Rd, where I'd taken up a flatmate vacancy through a friend. I loved Mt Albert then and had a particular fondness for the mountain and for Alberton. I left Mt Albert in about 1994, but returned in 2004 and have been here ever since. It feels like home.
Tell us about your childhood
I grew up in the UK and had quite a blissful childhood really, full of woodlands, dog walks, family, friends, and countryside. We emigrated to New Zealand when I was 15, which was quite a traumatic experience at the time as it was much against my will. We wound up living in Te Awamutu. I was going through a rebellious teenage punk phase, and there were definitely no punks in TA, despite me frantically searching for them!
Your first job?
Depends on what you mean by first? As a school student I worked part-time in Woolworths, Te Awamutu. Back then you got time-and-a-half for evening shifts, and double time on weekends, so I did pretty well for a 15-year-old! But before that, I'd worked my butt off cleaning out stables, as an under-12, in exchange for free rides on horses! My first 'real' full-time job, however, was as schools liaison secretary for the School of Secondary Education, ACE. Several years after that, I moved into publishing and graphic design.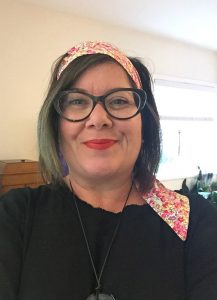 The most uplifting moment of your life?
Probably visiting Rome for the first time, walking around a quiet street corner and unexpectedly simply 'coming across' The Pantheon.
The saddest?
Endings… without going into too much detail, deaths of people, of dreams, of expectations and of future plans.
Things you've learnt about life that you will take to your grave?
Experiences are the only currency that count; creating good memories is what it's all about; the people that you expect to be there for you, sometimes aren't, but other people, who you didn't expect, continue to surprise you with their kindness and generosity.
What's made you very proud?
My partner and I taking on two young children who are not ours by birth, to give them a forever home. These children had a difficult start in life, and I am immensely proud of the fact that we have provided them with a loving family and some great experiences. It's a challenge at times, but we don't regret it for a moment.
What makes you damned angry?
Uggggh, don't get me started! I turn increasingly into Victor Meldrew with each passing year… but I guess fundamentally that dishonesty and injustice are my main bug bears.
What could you not do without?
A nice cuppa tea! Oh, and my furry friends… and my partner, Ronnie, of course!
The thing you have always wanted to crack but haven't yet managed?
To fully develop my artistic career. I still consider it to be a work in progress.
Who are the people (past and present) you most look up to?
They are many and varied and constantly changing, but I guess my key go-to people are artists such as Tracey Emin and Yayoi Kusama, film makers Mike Lee and Ken Loach, musicians such as Morrissey, Nick Cave, and Thom Yorke, and British comedian Stewart Lee.
What personal frailty (in others) do you most detest?
Regretfully, I am not overly tolerant of sniffing people with allergies, having sadly developed a kind of 'harden up' attitude to sickly-ness.
What about yourself – do you have flaws you wish weren't part of your make-up?
It would be beneficial if I was better at business and self-promotion.
Your perfect weekend?
A sea view, a beach just down the hill, hardly any people except those you are with (who are awesome company), some kayaking on clear, flat waters, happy children and tired animals.
And the dream holiday if money was no object?
Overseas travel. Always. Places you have never been to but always wanted to go.
What about that magic dinner party – who would share your table?
Alan Carr? Frida Kahlo? Billy Bragg? Nick Cave, deffo. Helena Bonham Carter? William Turner… oooh, Tom Hardy!
What about books and writers – what/who will stay in your mind until your dying day?
I enjoy a good, thought-provoking gritty novel: Niall Griffiths, Ian McEwan, Irvine Welsh, Nick Cave, to name but a few… (I'm aware that they're all men! That definitely wasn't intentional.)
Your favourite movies?
So, so many… All of Mike Lee's and Ken Loach's… I loved And When Did You Last See Your Father? with Colin Firth, Moulin Rouge is also a fave, and Melancholia stuck with me for ages… Geez, I love loads of movies and look forward to the Film Festival every year. I have a particular fondness for gritty British slice-of-life arthouse films, but the Aussies make a good movie too… Anything with Ben Mendelsohn in it is usually good, and NZ's own Sam Neill — he was amazing in that lovely little film Dean Spanley.
Watch much television? Favourite shows?
Talking of Sam Neill, you can't go past Peaky Blinders for a bit of Brit grit, and I enjoyed Carnivále… Stranger Things was awesome and gave me the heebie geebies for days… but to be honest I don't watch much TV, as such. I tend to find series that I like and then me and my partner binge on them big time. We can watch re-runs of Alan Partridge or Saxondale till the cows come home.
Your biggest concerns for the future (locally and elsewhere)?
Waste, plastics, global warming, pollution, islands made of plastic bottles, poisoning, obesity and cheap, fast, preservative-filled food, the increasing chasm between rich and poor, decreases in social conscience and community shared responsibility. Films like I, Daniel Blake really pinpoint an alarming rise in systemised, privatised, and centralised public "services" that fail to deal with individuals on a personal basis. (See comment above, 'Don't get me started!').
What do you particularly like about Mt Albert… and/or hate?
It is just the right amount of distance from the city for me, and not too far away from those beautiful west coast beaches either. I love the fact that I personally know the majority of my neighbours, and that we do things old-school, like swapping veges and bringing over home baking. I love the fact that we know our local community board as real people, ditto many of our shop owners and local businesses.
I love our cultural diversity, and the fact that our town is constantly striving to improve itself. Alberton has always held a special place in my heart, as does our mountain Owairaka, and the walkway along Oakley Creek. In general, most of us here in Mt Albert are friendly, approachable, and want what's best for our community. I do get frustrated by the traffic, and am very saddened by recent losses in green space, and the Government's insistence on road building rather than public transport investment.
If money was no object, what would you spend it on to make Mt Albert a better place?
If money was really no object, I would buy up Unitec's un-wanted land (before they develop it and sell it off) and turn it into a beautiful public park (along the lines of Cornwall Park) instead of it becoming a huge sprawling housing development. I would spend millions earthquake-proofing the historic hospital buildings that currently exist on site and turn them into maisonette flats and a vibrant creative community of art spaces and workshops.
Aware of Auckland's need for more homes, I would be happy to see additional housing developments in Mt Albert, but would ensure that all new housing projects are architecturally-designed and beautiful, eco-friendly and green (both in terms of how they operate and how they look), adding benefit to our community, and visually enhancing our streetscapes in a way that encourages community engagement and participation. I would invest funds researching and creating more tiny houses, building smaller spaces that address the housing shortage rather than financially benefiting developers.
I think we should be building 'up' rather than 'out' and would love to see 'green buildings' that incorporate trees, plants and green space vertically. I would upgrade all of the buildings in the main shopping area, giving them a colourful facelift while preserving their historical significance.
I would employ a team of locals whose job it was to maintain the shopping precinct (it being laden with plants and flowers, public seating, and artworks that I had put in). I would go around slapping heritage status on all local buildings worthy of preserving, so that they remain intact and free from destruction to maintain a historical visual link to the Mt Albert of 100-plus years ago.
And, of course, if money was really no object, I would ensure that we had enough resources to benefit those in need… I've sadly seen people sleeping rough in their cars in my very own Mt Albert street, and if I had the money to ensure these people were properly looked after, I would be happy to spend it on them.
I'd also employ full-time caretakers/security guards/gardeners to live on site and maintain our public parks. And I'd dump millions into improving infrastructure, public transport, and social welfare… I'd bring back the community constable and pay for them to have a full-time local role. In fact, I'd pay for a team of local police and crime-busters… Ahhhh, if only…
If you'd like to have a go at our Q and A, we'll send you the form. Contact us