A new Experience Centre, to be built on the edge of the Mt Albert Grammar School farm, is a $14m funding challenge. Picture: MAGS
The hunt is on for $14m needed to build a progressive primary industries teaching centre on the farm next to Mount Albert Grammar School. But a range of issues have to be sorted before the project takes real shape.
Auckland Council has granted an Open Plan of Works to an industry committee to build the smart new centre on adjacent farm land, and the school aims to do what it can to help New Zealand find the 50,000 primary industry workers needed over the next decade or so.
MAGS is just one player in that mission, but its role will be a vital one: attracting students and developing their skills on courses dealing with agriculture and horticulture science and agribusiness through the state of art 'Experience Centre' in the heart of New Zealand's biggest city.
A construction start will depend on how quickly the funds come in, but hopes are that it will begin in two or three years, with completion perhaps a year or so after that.
As the ASB MAGS farm advisory committee, made up of the Ministry of Primary Industries and big players such as KPMG and Fonterra, begins the task of raising the money, the school is already tackling the vexed question of adding even more students to its burgeoning roll.
The Ministry of Education has made it clear to highly-rated Auckland schools that they need to better manage their rolls so that student numbers don't put more pressure on infrastructure. For Mt Albert Grammar, that has meant a change to rules governing out-of-zone students for the 2018 school year – only accepting applications from siblings of existing students.
The new centre – to be known as the Experience Centre – is caught up in the zoning tangle because it will cater for 500 students chasing a primary industries education, as opposed to the present 160.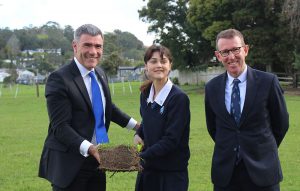 How 340 extra students – most almost certain to come from out-of-zone or overseas – will fit within the ministry's projections for MAGS is unclear, and headmaster Patrick Drumm (pictured here with Primary Industries Minister Nathan Guy and student Fatima Imran at the centre launch – MAGS picture) told Mt Albert Inc: "This is a challenge for the school."
"We are currently applying for 'Special Programme' status with the Ministry of Education for our agri pathway – that will allow us to prioritise out-of-zone students who apply for the agriculture and horticulture courses. We will be expecting some support from the ministry in housing these students."
As the ministry mulls over that issue, the project advisory committee in its search for funds has published a prospectus seeking expressions of interest. The appeal is likely to find support among big corporates with connections to the fields of agriculture, horticulture and agribusiness who will see value in a close association with the centre.
The corporate power of the advisory committee membership shows the high level of interest:  ASB Bank, KPMG, Plant and Food Research, the MAGS Foundation, the Ministry of Primary Industries and other primary sector organisations .
The centre will have five new classrooms and will feature special bays – almost like super-modern squash courts with elevated viewing – equipped with robotic milking technology, and fibre technology showing how wool is transformed into modern textiles. There will be a vineyard, a hydroponics building and a sheep shearing facility – all powered by solar energy – where students will learn animal handling, dairy and horticulture production, food preparation and science.
Mr Drumm says the facility "promises to be a watershed in the vocational offerings to students at MAGS".
To meet the huge future demand, workers will need to come from urban areas like Auckland – because rural New Zealand "simply does not have the population of young people to meet these employment demands", he says.
The centre offers "a fantastic opportunity for our best and brightest MAGS students… Gumboots will still have a place in the agricultural and horticultural careers of today, but of increasing importance are skills in the sciences, technology and business – as well as a real understanding of people and the need to sustain our environment for the future."
At the sod-turning ceremony early this month, Minister for Primary Industries Nathan Guy described the Experience Centre as "a cutting-edge teaching facility… a game changer" to help reach the target of 50,000 more primary industry workers.
– Bruce Morris
– This You Tube walk-through video of the proposal shows the scale and outlay of the centre.