A lovely old bungalow in Allendale Rd is making way for 10 new townhouses in the latest example of how the Unitary Plan is starting to change the face of Auckland.
A resource consent application has been lodged for the smart new development and, assuming it is approved, the houses will be ready for owners around the middle of next year.
When deciding the zone for bulk of the roads around the mountain and in the so-called "golden triangle" of heritage homes to the north, planners opted for one-house-one-section.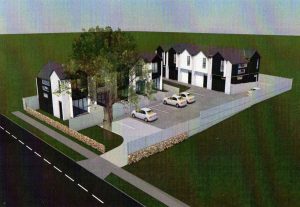 But the prime real estate of Allendale Rd was handled a little differently. The full western side of the road falls into that singe house category, but whole sections of the western side are now zoned for multi-storey apartments and terraced housing – as outlined in a Mt Albert Inc story last month.
The complete block bordered by Mt Albert Rd, New North Rd, Lloyd Ave and the eastern side of Allendale now carries that high-density zoning.
The same zoning applies to the first five properties in Allendale on the other side of Mt Albert Rd – and also at the Richardson Rd end, next to Hebron Christian College, where a developer is planning the townhouse project.
The land at 69 Allendale Rd stretches over 1179sq m and carries a council capital valuation of $2.3m, set in July last year.
In place of the 1925 bungalow, with pool and separate garage, the developer plans to build a quality project of high specifications – two bedroom, two bathroom townhouses over two storeys, each with one courtyard carpark. Lounge, kitchen and dining are on the ground floor level, feeding to small outdoor areas, and the bedrooms and bathrooms are upstairs.
The property is being marketed by Kerry Glengarry and Anne Duncan, of Anne Duncan Real Estate, at prices ranging from $945,000 to $1.045m. More information at this link.
In the end, 10 new houses will rise in the place of one old family home – the sort of density that these days appeals to council planners in a burgeoning city.
Bruce Morris