It took five or six days for the council to remove the rubbish from the Ferndale House driveway, but that gave locals time to gather evidence on who had dumped it there. Now, will the council chase it up? Picture: Bruce Morris
Auckland Mayor Phil Goff is promising to crack down on illegal rubbish dumpers – and Mt Albert will test his resolve as a prime place to start matching words with action.
Parts of Mt Albert have been targeted by dumpers over the past year or so, and the worst episode came on December 30 when a pile of household rubbish was tipped on to the driveway at Ferndale House just 30m from the front door of the council-owned heritage property.
It took the council five or six days to remove the ugly pile, adding to the affront. But at least that time lag allowed a furious local to gather evidence, providing a paper trail back to the perpetrators.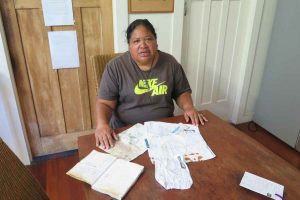 To date, the council has shown little interest in following up the retrieved documents. But, after Mr Goff's latest declaration and with Albert Eden Local Board deputy chair Glenda Fryer on the case, that may be about to change.
Josie Wilson (pictured), who manages a boarding house in Alexis Ave, collected the evidence from the pile of household garbage, helped by some of her tenants.
And it certainly is incriminating: a student ID card dating back to Massey High School in 2009 – with a birth certificate of the same young woman and a bail notice (with driver's licence details) dated November 2017 also in her name, relating to charges of shoplifting, theft, burglary and using a document for pecuniary advantage.
The woman would now be 28, and the bail paper records a Ranui address. While she may not have been personally responsible for the brazen dump, it doesn't take a Poirot or Columbo to work out that the council has powerful leads to chase.
Like all locals, Josie was appalled at the mess. "I take my grandkids over to Ferndale to play in the park, and it's so beautiful," she says. "And then along come some animals and dump their rubbish in the middle of it all. It was disgraceful."
She was so angry – and so dismayed it took three phone calls over several days to the council hotline to get the matter taken seriously – that she had a look through the pile herself before telling two tenants, "Find me something!"
They quickly uncovered a range of personal papers, including those pointing to the former Massey High student – and then told the council what she had.
Three weeks later, no one from the council had been in touch, though one hotline operator suggested she call the police.
The lack of response surprised Josie because Mr Goff had made headlines over his personal anger at the way "people treat their urban environment".
The mayor said it was time to target "people dumping stuff on the side of the road because they are too bloody lazy or too bloody tight to pay the cost of disposing of it properly".
He said he was working with the council's waste management team to identify strategies to tackle illegal dumping of waste, which carries a fine of up to $400 under council legislation and up to $5000 under the Litter Act.
"There are two sites where people who are lazy and irresponsible dump their rubbish. One is in the countryside and the other is in the industrial areas of the city," said Mr Goff.
A council-owned heritage site doesn't fall into either of those categories and the incident at Ferndale surely ranks as one of the nastiest dumpings over the past year or so.
Mt Albert people will be interested to see if the mayor follows up his words with strong action.
Glenda Fryer has grabbed hold of the issue – after being alerted by Mt Albert Inc – and is taking the evidence to the council on behalf of Josie and other locals.
"Blatant acts of dumping household rubbish in parks and outside historic homes are totally unacceptable to our communities," says Ms Fryer. "People who do this must know they are committing an eco-crime and will be punished by the society they have offended against.
"Where individual residents fail to dump legally, the community is demanding that council steps up its game in finding the perpetrators and prosecuting offenders."
Local board chair Peter Haynes supports the mayor's call for tougher penalties, "but what's the point if nobody's chasing the culprits?"
He notes that – as with monitoring dogs on beaches – the problem is exacerbated by chronic underfunding of the council compliance team and he intends to seek a boost to its budget.
Mt Albert Inc will keep in touch to see what council officers do – and report what happens to the repulsive people who decided to use our backyard as a tip.
Bruce Morris