The heritage-protected old hospital building on the Unitec land is now owned by the Government and, once expensive seismic strengthening is completed, may be turned into upmarket apartments. Picture: Bruce Morris
Bruce Morris finds the Government's housing deal with Unitec was a happy marriage of high ambition, blessed with perfect timing. But there may be awkward times ahead
The new coalition Government was knocking on Unitec's Mt Albert door chasing a housing deal straight after it was sworn in, quickly forging a $134m pact and shutting out private developers.
Labour couldn't have got out of the blocks any quicker – ready to run as soon as Winston Peters decided which party he would go with.
The coalition agreement was signed in late October and Phil Twyford, the architect of the KiwiBuild programme promising 100,000 affordable houses in a decade, was named Housing Minister a day later.
After all that time to plan during nine years in Opposition, the new minister was the guiding force when negotiations opened with Unitec's Wairaka Land Company subsidiary in November, ending in a conditional agreement to buy the land in mid-February. The transaction was announced with plenty of fanfare on March 25 and settled on April 16.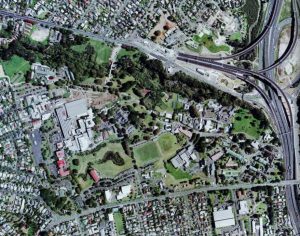 It was a dream agreement for a Government needing to show its commitment to tackling a housing crisis that National had allowed to fester.
Tying up 29ha of city-fringe land from a friendly and anxious seller to accommodate 3000 to 4000 new homes – under the noses of keen private developers not fussed with the idea of building affordable houses… what wasn't to like about that for a Labour-led coalition?
Yet had the election been a few short months later, KiwiBuild may have been forced to look elsewhere for its high-volume start because the sitting National Government would happily have left it all to private enterprise.
For financially-stressed Unitec and its grand plan to sell off surplus land to fund the future, it was all very sweet timing – as suggested in the key dates laid out in its 2017 annual report.
The tertiary institution had just started its search for buyers and drew quick and serious private interest, but nothing quite as appetising as that offered by a Government in a hurry.
After five years of falling rolls and income – along with knock-backs and the endless costs of administering a vast property with scores of ageing buildings not intended for teaching – the country's biggest technology institute faced serious liquidity issues.
Many of the buildings, inherited from the old Carrington Technical Institute over 40 years ago and from the Ministry of Health when Carrington and Oakley hospitals closed around 1990, are decaying liabilities. Most of them will go in the development.
But the landmark original mental hospital, starting life as the Whau Lunatic Asylum and built from the 1860s, has A-grade heritage status and cannot be demolished.
With perhaps tens of millions of dollars to be spent on seismic protection alone before the stately Victorian building can be turned into fancy apartments, Unitec is surely delighted to be rid of the millstone. (In the meantime, though, it will continue to be used for teaching architectural and creative industries courses.)
The institution's plan to create a compact education precinct of perhaps 10ha and sell its remaining 40ha-plus began to take serious shape when the new supercity Unitary Plan created the Wairaka Precinct and zoned 29.3ha of the Unitec land land open to intensive housing.
The key objective for Unitec when the coalition came calling was a clean deal at a fair price, and nothing could be more attractive in the property game than an unconditional contract involving money shifted between Crown accounts.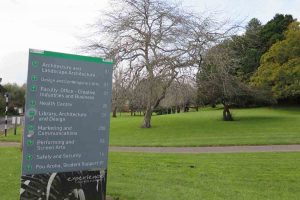 The Government negotiators pitched a price that may have fallen short of true competitive market value, but it came without reams of caveats and allowed Unitec to continue using buildings on the land until the end of 2021.
Most important of all, it came with the cash upfront.
In a few short weeks, Unitec (in breach of its banking covenants at December 31 and under pressure) pushed aside private enterprise and took the secure state option, almost instantly wiping out its $108.5m debt.
The Government price was $134m, less a $3.08m clawback the institution was required to pay under a March 2017 agreement over the legal transfer of extra parcels of Crown-owned land on the block.
Sweet as. And now the minister and his KiwiBuild team are looking to forge a partnership with Ngati Whatua (with whom it has treaty obligations to deal with first) and working on a masterplan to squeeze in those 3000-4000 homes or apartments. Twenty per cent will be state housing, 40 per cent KiwiBuild and 40 per cent for private sale.
While Unitec gets on with the business of mapping its unclear future – with a new $35m bank borrowing facility to ease the way – the housing target continues to raise eyebrows.
The institution's own masterplan to pitch to private developers envisaged 2675 houses and apartments. But up to 4000 dwellings? From the outset that seemed optimistic when housing was to cover just 19ha, though the minister soon hedged on the preciseness of the land set aside for actual buildings. Green space may become the casualty at that upper limit if it is still the aim.
The "gold standard" promise offered to locals by the Prime Minister will be judged in seven or eight years, with initial building not due to begin until well into next year.
But KiwiBuild has land in the bank, and perhaps the option of picking up a decent chunk more that will be surplus to Unitec's future compact education hub.
Pre-agreement, Unitec owned 83 per cent of the 64.5ha Wairaka Precinct and its holding has now been trimmed from 53.5ha to 24.2ha. In the past, it has indicated its hub could be contained in 10ha, suggesting a further 14ha may be available to a future buyer.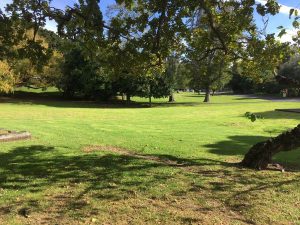 Of the other Wairaka Precinct players, Ngati Whatua owns some smaller lots, but has its own plans to develop those, perhaps yielding up to 500 or 600 units.
Where else could the Government expand its reach on the site if it found its present land won't produce 4000 "gold standard" dwellings?
A private owner leases a slab of land in the centre-north of the precinct to Taylors Laundry and may be a future option, though the terms of the lease and the intentions of the landlord are not known.
As well, the Crown, via the Waitemata District Health Board, owns the land in the north-west on which the Mason Clinic sits. The clinic is a secure forensic psychiatric facility that cares for, among others, people either convicted of serious criminal offending, or found not guilty by reason of insanity but detained as a patient by the courts.
While the Mason Clinic doesn't seem a comfortable fit in the part of the precinct where the aim may be for expensive private homes and apartments, there are no plans to shift it. The cost and logistics would be huge.
So any extra parcels of land needed by the Government will almost certainly come from the remaining Unitec block.
That will require a zoning change but Unitec could find itself forced by economic necessity to sign it over if overtures are made a few years down the track.
All of which is a long way from the bright future imagined when, five or six years ago, it first contemplated selling.
In Unitec's Unitary Plan submission in 2014, an executive noted: "By unlocking the enormous untapped commercial potential of Unitec's land asset, Unitec will create and maintain an endowment fund that will allow Unitec to achieve its goal of becoming a world-leading technical institute."
That vision went hand-in-hand with the "transformation business case" prepared by Unitec's council (its board of directors), which was accepted by the Secretary for Education and allowed the institution to take on debt to start a new building programme.
Since then, the institution has spent $70m to create two impressive buildings:
A vast student hub and library that has become the heart of the future compact educational precinct, and
A 7000sq m trades training centre, equipped with $8m of superior gear, that is fit to rank with the world's best.
They were completed last year and gave the sense of an institution preparing for tomorrow rather than one trapped in the cost-draining and scattered hand-me-down relics of decades and centuries past.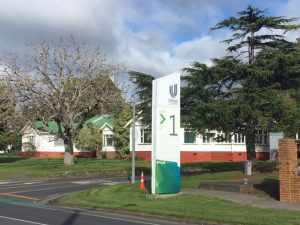 The financing was contingent on selling the bulk of the land and the Government deal keeps the banks happy and, for the moment anyway, the balance sheet fairly stable.
In the education precinct, the two new centres sit beside dated but functional teaching buildings and some abandoned sites that will be demolished one of these days.
No more construction is planned or budgeted at the moment, though extra space may be needed by the end of 2021 when all the old buildings on the Government land must be vacated.
Like all tertiary institutions around the country, Unitec has been struggling to keep its head above water.
Student numbers have fallen away, with full-time equivalent numbers down 7.2 per cent in 2017 to 8442, reflecting a total student body of 17,018. That slip followed declines of between 4 per cent and 10 per cent for the preceding four years.
In explaining the big drop-off, Unitec blames:
Better job opportunities in a buoyant economy pushing young people away from higher education and into a pay packet;
A shift to more part-time study, meaning less revenue per student;
Auckland's high cost of living.
No targets were set for 2018, but full-time student numbers – and the subsidy cheques that flow with them – will again be down… in a year of free tertiary study when a lift may have been expected.
The Auditor-General's office clearly lays out the challenge ahead in the annual report, saying the institution's council has "a reasonable expectation that there will be sufficient funds to enable the group to continue to operate for the foreseeable future." It doesn't sound the sort of prospect you'd bet your house on.
The report describes the projected earnings for 2018 as "inherently uncertain", depending on actual student enrolments, cost reductions and an ability to sell more assets – land – if required.
The office lists a range of financial issues that "create material uncertainty in the group's ability to continue as a going concern".
That is no resounding vote of confidence in the future of Unitec, and a long way from the dream of an endowment fund securing the future of a world-leading technical institute.
The PM's "gold standard" promise
Phil Twyford on the vision of 4000 new homes