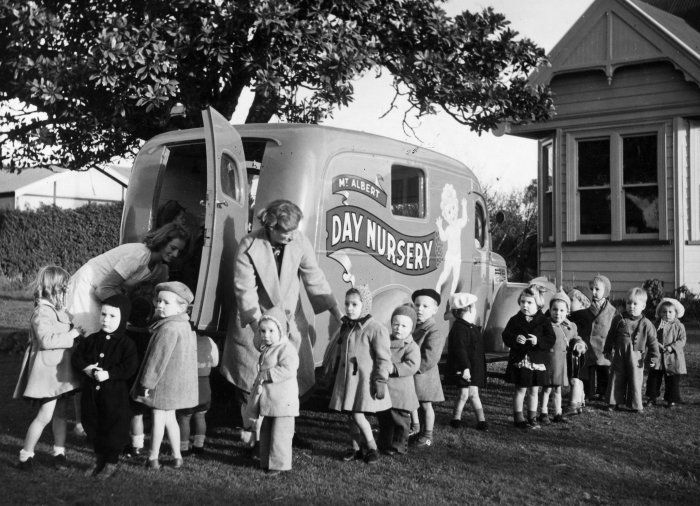 Children at the Mt Albert day nursery in 1947. Picture courtesy Alexander Turnbull Library
Personal stories – like those on this page – add great depth to our community. If you have one to tell, don't put it off. Write it now and send it! Just click here and paste it into our email link. Or email it direct to mtalbert.inc.co.nz
Enjoying Army rations a perk of war-time in Violet St
By Marjorie Turner
The Mt Albert Home Guard Battalion Headquarters was in our home at 20 Alexis Ave on the corner of Violet St. My Father, Charles W. Coles, had served throughout the 1914-18 War as officer in charge of the Fort on North Head and Mt Victoria at Devonport. He offered his services to the Army on the formation of the Home Guard in 1942 after Japan entered the 2nd World War and was appointed Battalion Commander with the rank of Major.
He also offered the use of our large stone and timber garage (originally a stable for horses) and a room in our large villa house for an office for the three staff, paid by the Army, the Battalion Adjutant, Sergeant Major and Quarter Master.
So… the whole Home Guard area from the corner of New North Rd and Dominion Rd out to the Manukau Harbour and the West Coast Beaches was administered from the bedroom next to my bedroom.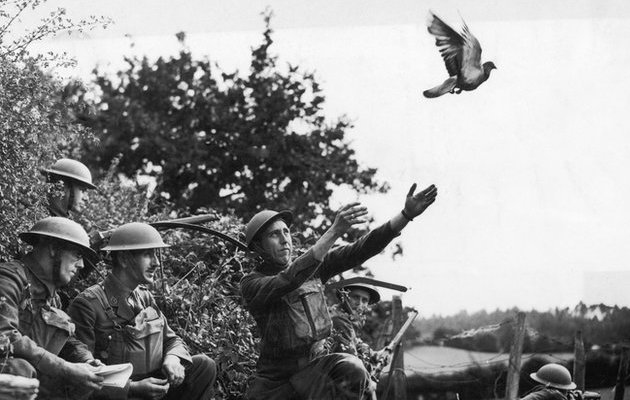 Their weekly planning meetings (with much cigarette smoke) were held in the dining room, the Quartermaster's stores were in the old garage on the corner of Violet St and its loft became the pigeon loft for the carrier pigeons from the Army.
'Pip, Squeak and Wilfred'
The Adjutant's name was Wilfred, the SM's boots squeaked and the QM 'gave us the pip' (not true actually) so we called them 'Pip, Squeak and Wilfred.' I think that was a cartoon strip at the time. They worked Monday to Friday, 9-5, and on parade nights, manoeuvre weekends and officers' meeting nights. They were responsible for the care of the pigeons but I took over at the weekends. All three lived in Mt Albert.
Weekly parade nights were held at the Mt Albert Grammar School. New recruits were issued with their uniforms at the QM stores – our garage – and they tried them for size in our dusty woodshed with its dim electric light bulb.
In the QM stores were also the rifles, hand-grenades and other military paraphernalia. I would practice the hand-grenade drill – 'pull the pin, count and lob'. Of course none of this equipment was live. Molotov cocktails were prepared in tins but without the explosives, and stored under our house – under the front lounge.
The sappers built a covered slit trench in the garden with steps down and a wooden bench in the middle.
I do not remember that the office door was ever locked. I would go in and study the aircraft identification papers on the wall showing the shapes of Japanese and NZ warplanes, hoping that I would correctly identify that first Japanese plane.
Joys of Army rations
One Easter weekend, manoeuvres were held in the Waitakere Ranges and the troops were taken out in army trucks. Pigeons were taken out and flew back to the loft with messages tied to their legs, for the HQ staff. A number of senior Mt Albert Grammar boys were used as runners and slept at our house. My Mother and I joined the troops on army rations for the weekend. They were good!
On another occasion a nesting hen pigeon was taken out by mistake. On her return she would not return to her unfledged chick, so I raised him and called him Rupert. Another hen suffered an injury and rather than hit her on the head I nursed her back to health. She was Sally.
When the HG was disbanded the number of pigeons had multiplied vastly. The army took most back to the Army's pigeon loft but allowed me to keep a few. They became my hobby for several years and I supplied a number of Mt Albert lads with their first pigeons. Others I sold to Johnnie Walkers in Queen St. When I see the groups of street pigeons now I wonder if they are the descendants of my brown Rupert and blue and
white Sally!
As you will tell from my story I had an interesting war, right in my own home here in Mt Albert.
This account was first published in the April 2010 Mt Albert Historical Society Newsletter
Memories of Dad reading Ben Hur on Lloyd Ave verandah
By Jack Morgan
Richard Monk, a sash and door factory owner, and later a Member of Parliament, built the house I lived in at 33 Lloyd Avenue, on what was then Mary's Lane, in the early 1860s, on land purchased from Allan Kerr Taylor.
The house was then surrounded by fields. The front door and verandah faced north toward New North Road, but from 1920 the quarter acre section ensured bungalows were built right next door blocking out the panoramic views. Muriel Kerr Taylor told my mother (Alma Morgan) that 33 Lloyd Avenue was built before Alberton.
My parents, Reg and Alma Morgan, started their lives together in Bournemouth Avenue, Sandringham where I was born.
Choice of three homes
But Reg was looking for a family home. There were three houses in close proximity for sale in Mount Albert. Clay's large two-storeyed house with its Italian tiles, on the corner of Lloyd Avenue and Allendale Road for £1800; Dr Martin's house next door to the bowling green in Allendale Road for £1600; and 33 Lloyd Avenue, a storey-and-a-half house was £1200.
Reg bought 33 Lloyd Avenue in 1935. The story goes that he raided my piggy bank for enough money for the deposit. The old house's fine colonial look has been partially lost by extensive modernisation.
My father changed the elaborate parlour with a large bay window and a door opening onto the verandah, into the main bedroom. He made the living room the parlour, lowering the ceiling; enlarged the kitchen and brought a semi-outside toilet inside and added a modern laundry on the back. A new addition adjacent to the kitchen became the dining room.
When we were young, he was hammering all day every Saturday. One downstairs bedroom became a sick room where we all had measles and mumps and the flu. When we lived there, the bedrooms were original, four upstairs and three downstairs.
The changes of time
Since being sold, after 60 years of Morgan ownership, it has sprouted dormer windows and has much changed inside.
The war years: I remember my father in an uncomfortable army uniform, and a big black gun in his dressing room, and soldiers marching through the Mt Albert shopping centre. Dad was often away in the army and Mum had to look after three little boys by herself.
At school we ran and jumped into trenches because the Japanese were going to bomb us. Walking home from school early, we looked up and saw planes flying overhead and wondered if they were Japanese.
When the Americans came, two of them came to our place, and gave me American coins.
It was a lovely house to live in, with the big back garden with sheds where I kept horse drawn buggies, fruit trees, the view over Burgess's orchard towards Mt Albert Presbyterian Church; other windows gave glimpses of the harbour, and the Norfolk pines at Ferndale. My father read me the whole of Ben Hur on Sunday afternoons on the verandah.
Father leased a paddock on Alexis Avenue for twenty years. For some years we kept a cow and made butter, but mostly I kept horses for riding and driving.
My brother Harvey, used to build trolleys and tandem bikes in the garage. I always admired brother Harvey. He rose early for years and did a Herald delivery run to make money to buy materials for his creations.
My other brother Garth cooked and baked in the kitchen when Mother wasn't well. Garth appeared to be the quietest of us all. He seemed to spend most of his time at his homework and later, studies for accountancy, but on Saturday, decked out in white, he went off to play tennis.
Dangers of driving too young
When my sister Alison was small she climbed into the Citroen car and let the handbrake off. The car rolled down the drive, across the road, mounted the kerb and banged into Miss Phillipson's stone wall.
Alison wanted to be a nurse, but Mother wanted her to be a secretary, because she would see too much of the ways of the world if she was nursing. Alison attended a shorthand typing course for a year, but in the end she got her way and went nursing.
We did many creative things at home, made puppets, decorated eggs, made miniature doll's furniture out of matchboxes, and sand saucer gardens, and took part in fancy dress occasions. All these creative pursuits were encouraged by my mother.
Every Christmas we sent the cow to the Mt Albert Grammar School farm, loaded the boat upside down on the trailer on top of the luggage, and the canvas tent, and went to Simpson's Beach, near Whitianga.
The hardest thing about living at Lloyd Avenue was that we boys had to walk over a mile barefoot as five-year olds to Owairaka School. I remember it was hard to stay awake in class after that long walk.
This account was first published in the March 2014 newsletter of the Mt Albert Historical Society.
Underpants-free in barefoot times of tough 1930s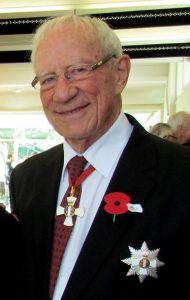 Sir Harold Marshall, one of Mt Albert's most famous sons, writes of those early days: "[Grandfather] Fred, Frank, and Andy, the three Woodward brothers, provided for their retirement intending to be what we would call 'hobby farmers' sharing the chores and products – milking the one or two cows, collecting the eggs, making the hay,  and gardening for the rest of their lives.
"Fred died prematurely in 1928, the year that my parents married.  My brother, Fred, first born in the Marshall family (and who passed away in 2017), was born in 1930 and I, 11 months later, in 1931.  We all lived with 'Granny' at 28 Woodward Rd (Fred's villa) until the earthquake in Napier gave some hope of architectural work in Hawkes Bay.
Great depression
"The young family, with Fred (then aged one) and me (3 months) moved down to rent a house in Napier for the next 3 years. Times were hard in Mt Albert. The great depression was underway and there was simply no work for a newly-graduated architect. Because we grew our own food we were, I guess, better off than most who lived in Mt Albert.
"The house was built when we returned in 1933-34.  Before long there was a little sister and then another brother. The growing children were blessed with the remnants of rural life – making the butter, looking after the pony and the pet lamb, feeding the chooks and so on, with a highlight being the annual haymaking. Yes here in Mt Albert, in one of the three paddocks.
"There were no footpaths, curbs or channelling and the paddocks were 5-wire fenced either side of the metalled road.  None of that meant anything to me of course. The narrative was just beginning and paddocks, cows, chooks, hay and gardens were just the way things were.
Walking to school
We walked to school of course – barefoot, underpants never heard of – with a cut lunch and little else in our leather school bags.
"And yes! We did get chilblains on our toes in the winter and occasionally warmed our feet in fresh hot cowpats on the way to school. The dewy grass cleaned them back to white! "Primary school passed dreamily by, punctuated by one strapping by the head – one Mr Scott – who made me stand for hours outside his study and then strapped me on the hand until I wet my pants.  I suppose I learned stuff – certainly times-tables and other arithmetic but I was not engaged with what we did. The war started when I was eight. Air – raid shelters were  constructed in the one playing field, and Johnny Fountain was able to pee over the boy's urinal wall!"
In an emergency, it was time to turn to  barley sugar
Murray Jenkin was born in 1933 and lived for the next 30 years at the top of Alberton Ave with dad Jack, mother Gladys and a brother and two sisters. Jack Jenkin was a long-time teacher at MAGS and Murray, after two spells in the UK in the late 50s and early 60s, went on to run his own pharmacy business.  He writes of those early days in Mt Albert:
"I was sent to Owairaka Primary School on the day after my fifth birthday, mainly because war with Japan seemed imminent and my Hayward cousins lived nearby on the corner of Richardson Rd and Grande Ave.
"At the time all householders were required to build air-raid shelters and these varied from simple open trenches at the bottom of the garden to more elaborate affairs dug deeper with roofs and furniture.
Fresh milk in a billy
"We made our way each morning, barefooted (as was common at time) along Mt Albert Rd passing Sadgrove's farmlet where a couple of cows were milked each night and where we took our billys to be filled with fresh milk. Then it was up Summit Dr, over the mountain, through paddocks, down Grande Ave and along Richardson Rd.
"At school slit trenches had been dug in preparedness for war and we each wore a pouch around our neck which contained an aluminium name plate with our name, address and phone number, cotton wool to stuff in our ears to deaden the sound of explosives, a large cork into which we instructed to bite to minimise concussion and a barley sugar to give us extra energy in case of emergency.
"The school opened in 1929 as Richardson Rd School after the grounds had been originally laid out by unemployed relief workers and were further developed by parents' working bees. I can remember the names of the teachers (almost all female and all unmarried as at the time married women were not permitted to teach): Nairn, McKinlay, Kidd and Carey. The headmaster was Mr Floyd, who used to keep order in a loud voice from his central office during lunchtime.
Queen carnivals and school galas
"The fledgling school was equipped with only basic amenities and with a war looming it was not surprising that we always seemed to be raising money. I can vividly remember the queen carnivals when four queens were chosen from different parts of the school and the winner who managed to raise the most funds was crowned at the school gala which was held on a Saturday. A feature of these occasions was a demonstration of maypole dancing, when teams of children would each hold a strand of ribbon attached to a central pole and would perform intricate dances sequences.
"There was a real sense of community in Mt Albert in those days: it was like growing up in a big village. We met the same friends at school, Sunday school, gym, cubs, scouts, Boys' and Girls' Brigades, brownies, guides and so on. Not everyone had a car and petrol was rationed during and after the war, so our activities were constrained by the distance we could walk or cycle unless we took a tram into "town".
"I realise how fortunate I was to grow up in Mt Albert at that time and many friendships made during those early years remain and continue to be important to me."
Happy times at school – and lovely hot meat pies
By Glennys McGlashan
I attended Mt Albert Primary School from 1945 to 1951. I had strict but good teachers and I have many happy memories of my primary school days. I travelled to school on the tram car with my father who owned a menswear shop in lower Queen Street. He made sure that I disembarked the tram at the school stop and I enjoyed this special time with my father each morning.
I usually took a cut lunch from home consisting of two sandwiches, a piece of cake that my mother had made and a piece of fruit. Sometimes I was allowed to have the treat of buying my lunch.
As there was no lunch bar (tuck shop as they were called in those days) at the school, students were permitted to sprint up the road to the St Lukes shops to buy some lunch. I do not mean the St Lukes Shopping Mall as that did not exist until the 1970s. There were six shops at the junction of New North Road and St Lukes Road.
Hot chips for six pence
At the dairy we could buy a delicious hot meat pie and a donut covered in icing sugar and filled with raspberry jam and cream. We would wait patiently at the fish and chip shop for a sixpenny newspaper parcel of hot chips, or buy tuppence worth of pork luncheon sausage at the small grocery store.
On one occasion I had taken my lunch from home, wrapped in grease-proof paper and then placed in a brown paper bag. (Plastic wrap had not been invented.)  My brother, who was eight years older than me, arrived on his bicycle. Apparently I had taken a paper bag with a dozen raw eggs inside instead of my lunch! Luckily the eggs were still intact and were duly exchanged for my lunch.
In standard two (Year 4), I had a teacher called Miss Wolf. There were over 40 children in the class. Miss Wolf was a tall, slim, blonde and she usually wore a pleated skirt and a cardigan, with nylon stockings and high-heeled shoes. Her hair was rolled at the nape of her neck which was the fashion in the 1940s. She was kind and sympathetic, and became my favourite teacher.
Awkward times behind the blackboard
Miss Wolf had a mobile blackboard on a large easel to one side at the front of the classroom. Anyone caught talking out of turn or misbehaving was told to stand behind the blackboard and wait until Miss Wolf would deal with them at the next break.
It was terrifying for the students to see a pair of little legs beneath the edge of the board waiting for punishment. In fact one day a little girl was so scared that a stream was seen trickling between her shoes as she stood behind the board. No one dared to laugh but we all felt very great sympathy for her.
A highlight was the annual school fair to raise funds for the school. One year I was to be part of the demonstration of folk dancing but I didn't like holding boys' hands in those days and hid behind a tree and refused to take part! I loved the sports days, playing basketball on the asphalt courts, especially when we had oranges cut into pieces at half time.
This account was first published in the January 2015 newsletter of the Mt Albert Historical Society.
CAPTIONS: Sir Harold Marshall. Picture courtesy Cathy Casey; war-time pigeons troops carrying messages.