In a suburb where streets of lovely old bungalows are at risk of surviving another decade or two, Mt Albert has just four sites alongside the highest heritage ratings in the land.
It should be no surprise that one of them is Alberton House, one of the country's finest old residences, with a history dating back to 1863 and today in the care of Heritage New Zealand.
The others? Well, many people might pick a couple of them (and wonder why some other notable local buildings don't carry quite the level of protection): St Luke's Church, built in 1872, and the stately main building at Oakley Hospital, constructed six years earlier. They sit comfortably next to Alberton as significant Mt Albert contributions to the city's heritage.
But the fourth local site with the A-category heritage status may cause some bewilderment.
It's a concrete shell splattered with graffiti and sprouting weeds – a drinking den judging from the left-overs, and probably occasional shelter to the homeless.
The concrete slab is on the edge of the carpark at Chamberlain Park Golf Course, surrounded by a 1m-high wire netting fence, with access through an open gateway carrying a plaque bearing this message: "Placed in honour of those who manned this gun turret by the Mt Albert Community Board 31 July 1998".
Look a little further and another, more aged, plaque gives a fuller background:  "This gun emplacement is one of four constructed  in Chamberlain Park in 1942 as part of the anti-aircraft defence in Auckland during the Second World War. The Chamberlain Park emplacements were occupied by Number 69 Heavy Anti-aircraft Battery of Number 15 Company of the Anti-aircraft Regiment using 3.7 inch guns".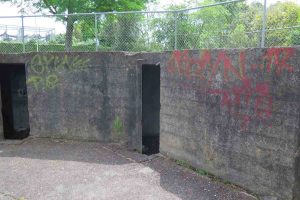 It's a reminder in matter-of-fact language that old and beautiful is not the only criteria for heritage listing.
Sure, many of the gunners who manned the emplacements may not have seen the active service of some of their brothers, sisters and neighbours.
But they helped to give a sense of security to frightened people close enough to the serious action after the Japanese attack on Pearl Harbor in 1941.
The question is: if we choose to respect our past with high levels of protection over important historic buildings and sites, do we not also have a responsibility to make that step meaningful?
The remaining gun emplacement is on Auckland Council land and thousands of people pass within three or four metres of it every month on their way to a round of golf.
Who knows how long the existing graffiti has been there, but it certainly didn't arrive in one splash overnight; if a broom and water-blaster has seen duty at this memorial, it was surely months ago rather than weeks.
How long would graffiti survive on the perimeter fence to Alberton? We all know it would be gone by breakfast, and that is how it should be.
It's time for a clean-up at the Chamberlain Park gun emplacement, and a few dollars spent on some simple surrounding gardens to add an element of respect to a wartime memorial.
At the moment it is a hovel that dishonours the men who did their duty.
Bruce Morris