By Bruce Morris
Peter Whitehead would probably have been embarrassed at all the fuss – a modest, hard-working student given a lasting place in the school that helped to shape his life.
In the shadow of the Mt Albert Grammar classrooms that guided his progress from youth to young man, a monument now honours the sad story of a life lost too soon.
Peter, three years out of MAGS, was fleetingly in the headlines in 1985 for tragic reasons: he disappeared in January that year while climbing with a friend on Mt Tutoko– a challenging and dangerous 2723m peak in the Darran Range between the lower Hollyford Valley and Milford Sound.
His companion's body was found at the base of a bluff near the peak icefield, but there was no trace of Peter, then aged 21 and in the first year of a career in computer software after graduating from Auckland University. It's assumed he fell into one of the many gaping crevasses on the mountain.
The sad story lay dormant until December last year when a concrete-encased plaque bearing the inscription "Peter Whitehead Memorial Tree" was hauled from Meola Creek alongside the school.
Who was Peter Whitehead? To most locals it was a mystery, but Mt Albert Inc delved into archives to unearth the full story.
A kauri was planted on Roy Clements Treeway land – the urban forest and walkway named after one of Peter's teachers – and the memorial plaque was placed beneath it by family and friends. (The picture at the bottom of the page was taken at the original 1986 planting ceremony. It shows (left to right) Michael Whitehead (Peter's younger brother), Felicity Barnes (Michael's wife), Alan Esler, Lindsay Esler, Una Esler and family friend and MAGS old boy John Matthews. Peter's parents were living in England at the time.)
But the tree died and vandals added further indignity to sad memories. They apparently rolled the concrete slab 10m or so to the stream where it lay unnoticed for years before being hauled out by a digger last December.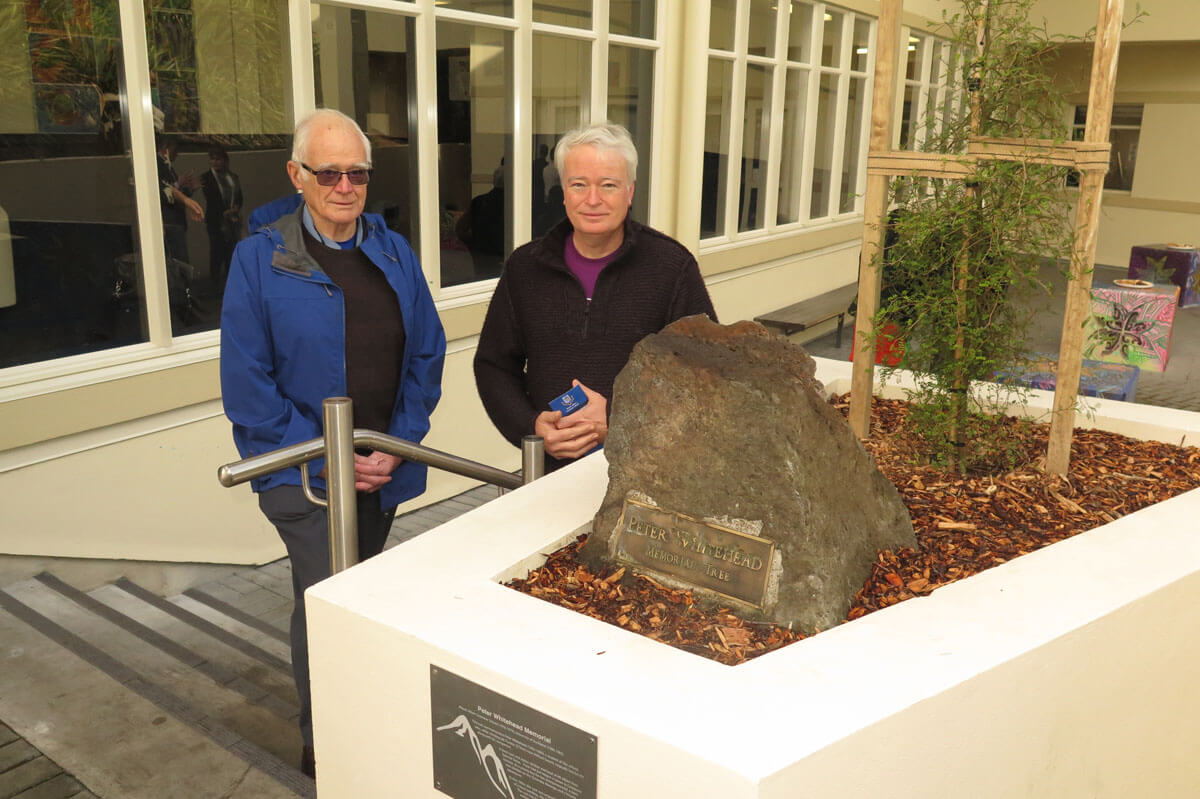 That set off a chain of events ending today with a special ceremony in the school grounds to honour an Albertian who will never be forgotten.
A kowhai tree now sits alongside the original plaque, with a separate plate explaining to future students just who Peter Whitehead was and how he died.
Headmaster Patrick Drumm paid tribute to prefects who led the initiative to establish a permanent memorial to Peter Whitehead.
"I wonder what Peter would think of the school now," said Mr Drumm. "Could he have imagined that we now have over 3000 pupils?
"MAGS has certainly changed over the years since Peter's time, but today's commemoration is about what hasn't changed. That will always be about people, past and present – people being the most important thing in our schools."
After a karakia by Matua Peter Walters, the school hymn by three students and a reading of the monument inscription by prefect Janelle Kara, present academic dean Warwick Gibbs, who taught Peter, painted a picture of his past pupil.
To a small audience that included Peter's dad, Bob Whitehead, and Roy Clements, Mr Gibbs confessed to feeling somewhat daunted when he was first asked to speak "because we are talking about a boy in a class 42 years ago".
"Fortunately," he added, "there are some factors that help me, one of which is that I never throw anything away and that class has stayed in my memory for a long time".
Peter was known as "Punky" among his mates and Mr Gibbs rated his third form class one of the best he had taught.
"They were friendly, funny, related well to each other and were extremely intelligent. Large numbers of them went on to become doctors and engineers and several left early to start their further education. Peter was one of those."
His old teacher remembered "a tall, slim, quiet young man with considerable intelligence" and mark-books from the 70s showed he was an excellent scholar.
An end-of-year report from the fourth form noted: "Peter's application is a model to others. I am extremely impressed by his ability and hard work."
Best friend Lindsay Esler told the small gathering, which included Peter's dad, Bob Whitehead, that he and his mate were pretty much inseparable during their school days.
"We had a great childhood. Peter was quiet but a very determined person who wouldn't give up on things.
"He was always well-prepared and careful, but unfortunately not everything goes according to plan, and it was a very tragic loss of a person with huge potential."
Mr Esler said the poignant occasion should remind everyone that "life is fragile. We need to seize the moment and enjoy things and take experiences as they come."
CAPTION FOR TOP PICTURE: Bob Whitehead with Lindsay Esler beside the Mt Albert Grammar monument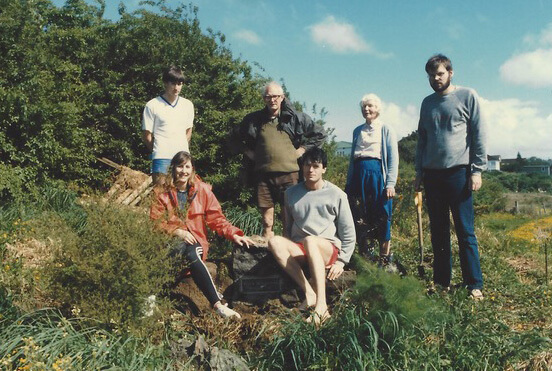 Last December's Mt Albert Inc story: Mystery plaque hides a tragedy