Natasha is now selling her sunscreen around the world after setting up the business in her own home. Below: Natasha with children Rickard and Cassandra.
By Jenni Austin
A helping hand from the high school ball date who would grow into a TV celebrity has seen Natasha Urlich Candy launch a successful sunscreen business from her home office in Taylors Rd.
Natasha's product, Pure Shade, is sold at more than 50 high end retailers in New Zealand, and she also has a growing export business into the Asia, the Middle East and India. It has all come from an idea that developed  during her university days as a pharmacy retail assistant, some luck… and a lot of hard work.
"While I have been really lucky with some good wins, this is just another example of what is possible for a mum to achieve," she says.
Those wins include her product featuring just six months after it was launched in a two- page spread in the Chinese equivalent of Vogue, alongside top products from La Mer and Chanel.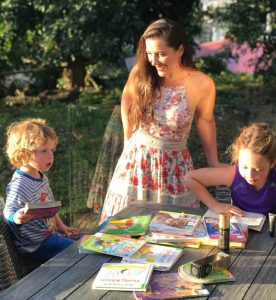 "The magazine has more than 1.2 million subscribers and their on-line post had more than 7 million views," she says.
Another win was the help of the high school ball date, TV celebrity, Colin Mathura Jeffrey.
"He has been fantastic, introducing me to industry contacts and a key magazine editor who in turn introduced me to make-up artists and potential customers," she says.  "That help really gave me a head start with getting the product into the right places from the start."
Natasha started the business two years ago, just after the birth of her son Rikard as a more family-friendly venture than her previous job as a global marketing manager in the construction industry.
"I loved my job, but just didn't want to travel anymore once we had Rikard. I had been kicking this idea around for a while, so after talking to a few people decided to give it a try."
It was her experience working at a pharmacy at St Luke's during her university years that helped her spot a gap in the market for a high-end facial sunscreen product featuring New Zealand ingredients.
She enlisted the help of a chemist to help develop a formulation for a specialty facial sunscreen using New Zealand ingredients such as Manuka honey, Pohutakawa blossom and kiwifruit. Just as much care was taken in developing the packaging – for which she has already won an award.
The product is only stocked in exclusive outlets in New Zealand, including resorts such as Kauri Cliffs in Northland, spas and hotels.  Overseas, endorsements from social media stars in China and the magazine article has meant a steady stream of orders, pushing sales to six figures.
Not bad at all from a standing start in a small room in the house while looking after the kids!