Artist Ian Reid lived in Fowlds Ave when he created his work Duet – the sculpture that stood for 38 years before "disappearing".
As a piece of public art, it could hardly be missed – 2.4m tall of solid concrete representing one man's depiction of love, standing outside Mt Albert library for almost 40 years.
But overnight it vanished, though the mystery of what happened to Ian Reid's sculpture doesn't quite have the makings of a celebrated whodunit.
Mt Albert is hardly known for its public art and the sculpture's disappearance from such a prominent spot might have been expected to arouse some local debate when it slipped away in 2011.
But no one seemed to really care until six years later when the Albert Eden Local Board was alerted and chair Peter Haynes delved into the murky past.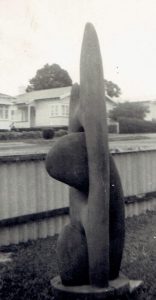 A trawl back through Auckland Council agenda minutes suggested the piece of art – called "Duet" by Mr Reid – met a sticky end. It was unceremoniously prised from its support and probably dumped in some tip or used as clean fill on a construction site.
The ignominious end to countless hours of endeavour by the artist may not have been mourned because, well, the sculpture wasn't everyone's cup of tea.
But Dr Haynes' research – in response to a request for a replacement sculpture – shows the council did its best not to ruffle feathers when it decided Duet had had its day.
Mr Reid's work, which was donated to the old Mt Albert council in 1974, was removed from the supercity's public art collection (featuring some of the country's finest works) after a curator discovered a supporting rod was failing, posing a risk that the sculpture could topple.
When faced with restoration costs of $9000, and noting a community "lack of interest" in the piece, the council decided to get rid of it… but not before Mr Reid was asked for his thoughts. His reply, more or less: do what you want to do.
These days the artist is well into his 80s and living in Whangarei, and throws his mind back to the 70s when he decided to create a sculpture for his community.
He put endless hours into the creation on the front lawn of his Fowlds Ave home, working at nights and weekends on Duet between his job as a cabinet maker and French polisher. When it was finished, he approached mayor Frank Ryan, who liked what he saw and recommended the council accept the gift.
Before long, it was installed in front of the new library, though Mr Reid always thought it would have been best placed in a less conspicuous spot among the trees above the library carpark.
For 38 years people passed it by, many with raised eyebrows and perhaps wondering what it was meant to depict. The artist is today happy to help the understanding of those who might still remember his work: "It was a love piece really. It showed a woman as the centre-piece kneeling down under the protection of her man."
The sculpture doesn't seem to have been widely appreciated or understood.
Mr Reid remembers the Auckland Art Gallery director, Dr Rodney Wilson, telling him that Duet "isn't brilliant".
"I'm afraid it wasn't up to standard in his eyes," he says. "But I think it was quite an achievement and I was thrilled to have it accepted.".
When the council approached him in 2011, he took the view that "if the council don't want it, the council don't want it. You can't fight that".
However, he was happy that a piece he created was on public display for 30-odd years and not upset at all that it probably ended up in a dump… "I don't get precious over those sorts of things".
As a long-time member of the Auckland Society of Arts, Mr Reid started off painting before creating 240 sculpture works over 40 years. Now, after publishing a book of his short stories and poems, he's looking at a new poetry book.
"The arts have been a big part of my life," he says, "and I think I can look back with some pride at the things I've accomplished."
When the matter was brought to its attention a few months ago, the local board asked the council to investigate a replacement work outside the library. But with a commitment to substantial public art in Waterview's Heron Park by internally-recognised Judy Millar, council officers decided that wasn't possible. [This link gives details on the Heron Park project]
Dr Haynes hopes that a private individual, group or organisation might step up to give suitable artwork to Mt Albert.
The local board doesn't have the funds to provide public art and he invites arts donors to "think outside the CBD" when they consider gifting public artworks.
As Dr Haynes points out, Mt Albert has a number of prominent sites with as much traffic as CBD locations and he'd love to hear from groups or individuals who feel they can help.
Bruce Morris