Debra Bellon with 17-month-old daughter Naïa. Debra was raised in California and came to Auckland after a long spell in France. The picture below shows Debra with her other children, Noé and Lucia.
Debra Bellon lives in Mt Albert with her husband Gilles and three children, Noé, Lucia and Naïa. She is currently the marketing and communications co-ordinator for the Mt Albert Business Association. Debra also runs a French playgroup, is an administrator on the Mt Albert Community Facebook page and a volunteer with disability advocacy groups. In between times, she bakes bread and ferries children around Auckland!
So how did you get to Mt Albert?
We moved to Auckland from France around four years ago. We've always enjoyed exploring different parts of the world, and New Zealand seemed like an exciting place to move to. We originally intended to live in Grey Lynn, as our son attends Richmond Rd School, but it was difficult to find a family home in the area, much less an affordable one. Mt Albert had been recommended to us before we came as a good neighbourhood for families with young children.
Tell us about your childhood
I grew up in Orange County, California, before it was "The OC" (we still had oranges back then!). It's a part of California that was deeply conservative (Nixon country) but also very diverse. My mother was born in China and moved to the US when she was 17. My father was born to a Russian Jewish family in Philadelphia. My parents were both computer programmers so I grew up with technology from a young age — I was on the internet before anyone knew what the internet was!  I walked to school, got excited when it rained (once a year), and spent a lot of time at the beach.
Your first job?
I was a director's assistant on a feature film that was shot in Vancouver but had a lot of international stars in it. Sadly, the film wasn't very good and went straight to video.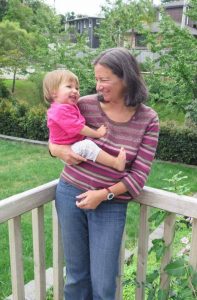 The most uplifting moment of your life?
That's a tough one! I've been fortunate to have been given a lot of opportunities to travel and to try new things. I can't really pick one moment.
The saddest?
The most difficult things in my life have not happened in a single moment – they've evolved slowly over time. The saddest thing is probably the realisation that my daughter, now eight, will never be able to communicate fully. Unlike some other parents of children with disabilities, I can't identify a single moment where that became clear – it's always been "wait and see," and from the moment of her diagnosis (her disabilities were caused by a congenital infection) to now, there has always been a mix of worry, sadness, hope, and of course joy.
Things you've learnt about life that you will take to your grave?
Don't be afraid to make noise.
What's made you very proud?
My kids – all of them, in their own way.
What makes you damned angry?
Voting in the US! I have voted in every election since I was 18 and my vote has never counted because of the Electoral College. I still vote, though.
What could you not do without?
The internet.
The thing you have always wanted to crack but haven't yet managed?
There are a lot of languages I would like to learn. Life is too short.
Who are the people (past and present) you most look up to?
My mother.
What personal frailty (in others) do you most detest?
Selfishness.
What about yourself – do you have flaws you wish weren't part of your make-up?
This might sound odd, but I think I should be more confrontational.
Describe your perfect weekend
Crepes for breakfast, a family bike ride, an afternoon at the beach, a trip to somewhere new.
And the dream holiday if money was no object?
The Galapagos.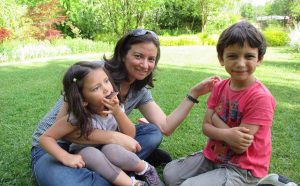 What about that magic dinner party – who would share your table?
Barack and Michelle Obama, Margaret Atwood, Nick Hornby, J K Rowling, Stephen Fry, Alice Waters.
What would be on the menu?
Shanghai soup dumplings.
And the music in the background?
Bill Evans.
What about books and writers – what/who will stay in your mind until your dying day?
I think the books I remember best are those I read as a child/teenager – Anne of Green Gables, Pride and Prejudice, Wuthering Heights, Germinale.
Your favourite movies?
Can I be a film school geek here? I love Truffaut movies (especially Jules and Jim), Kieslowski's Decalogue and Three Colours trilogy, Woody Allen, Pedro Almodovar.
Watch much television? Favourite shows?
Yes! I love streaming. Currently watching This is Us, The Americans, The Marvellous Mrs. Maisel, and Mozart in the Jungle. I also watch a lot of talk shows like Colbert, John Oliver, Graham Norton.
What are your biggest concerns for the future (locally and elsewhere)?
I believe that the most dangerous thing happening in the world today is the proliferation of "alternative facts" – the idea that anyone can make up their own science, logic, or history. I remember when The Flat Earth Society was a cocktail party anecdote – now it's a "thing."
What do you particularly like about Mt Albert… and/or hate?
I like the sense of community.
If money was no object, what would you spend it on to make Mt Albert a better place?
I would love to have a community square with a park, library, swimming pool, market and community centre, and maybe even a school. We have all those things, but they're sprawled out across the suburb. If I had unlimited resources, I would create one big community hub that people could walk to.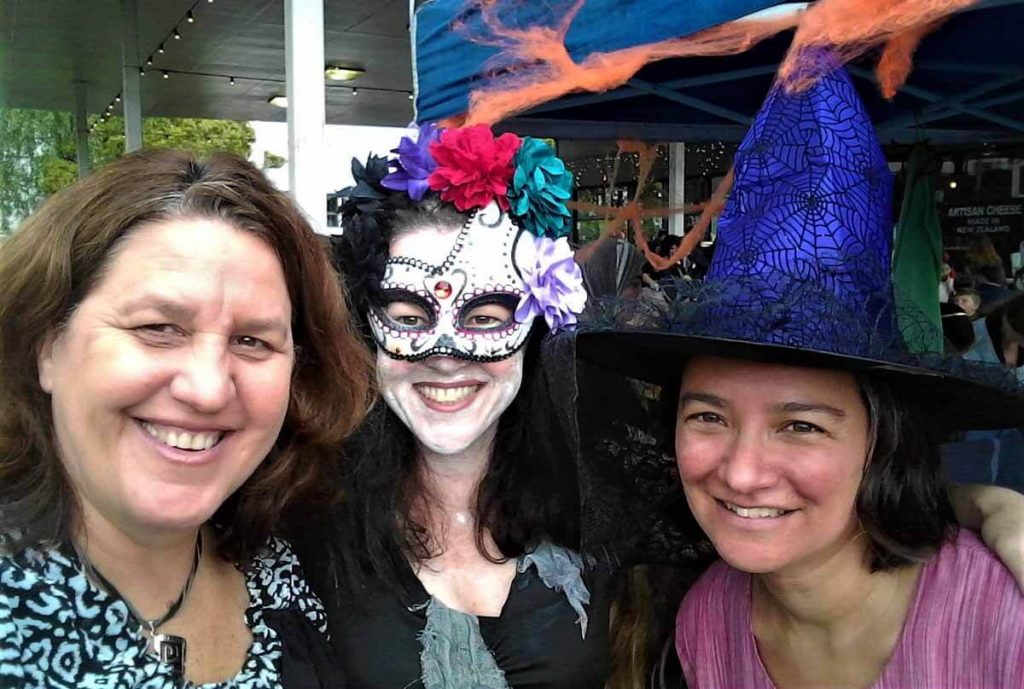 Debra Bellon with Margi Watson and Catherine Goodwin on Candy Crawl business in Mt Albert