Sixth formers at Kings College in 1911 – with head boy Ron McLean at the back and best mate Keith Hunter to his right. Fate brought them together on the battlefields of the Somme where they died alongside each other in 1916. Other captions at bottom of this page. All pictures courtesy of the McLean family.
By Bruce Morris
Ron McLean and Keith Hunter were not just mates. They were best mates – young lives built in the streets and wide open spaces of Mt Albert in an era of hard graft and simple pleasures.
The boys were inseparable in the late 1890s and the early years of the 20th century when kids made their own fun on neighbourhood adventures.
The slopes of the mountain were their playground and the boys formed a bond that stayed as tight and warm as the firmest of handshakes right through their days at Mt Albert Primary and then Kings College.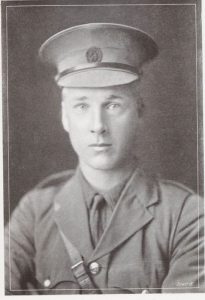 Ron went to Kings in 1907 as a 14-year-old, followed a year later by his mate. Their partnership in the school's rich history was sealed in 1911 when Ron became head boy (a position brother Neil would fill a year later) and Keith was appointed his deputy.
Ron and Keith were barely 21 when war broke out and the inseparable mates soon enlisted. In their eyes was adventure in exciting parts of the world far from the slopes of childhood Mt Albert and the sprawling McLean family mansion, Ainslie, in Allendale Rd that was a dominant feature of the local landscape.
Their parents were proud, but it was a pride mixed with anxiety and their greatest wish was probably that the war would be over before the troopships landed.
Off the boys went to faraway lands – in different battalions, separated by an army with scant regard for earlier mate-ship – and they saw nothing of each other as the awful realities of battle replaced the yearning for adventure.
Those realities were brought home to Ron and brother Neil when news came from their distraught parents that the first McLean boy to wear khaki, eldest brother Raymund, was killed in the Gallipoli landing in 1915.
Isabella and Murdoch McLean, the then-mayor of Mt Albert and leader with his brother John of one of the country's biggest construction companies, knew all about personal tragedy among their 10 children. They had lost a baby daughter in an accident in 1892, and son Glenallan was killed on the site of the Otira tunnel project the company headed in the Southern Alps in 1910.
The death of a son in battle – and the endless war-time worry over the danger to Ron and Neil, and young Keith Hunter, who they were very fond of – was surely distressing, though Raymund fought under the Australian flag after crossing the Tasman to live following a dispute with his father.
In peaceful Mt Albert they probably lived in fear of the telegrams that were used through the First World War to give the news – in stark, detached form – that a loved-one had been killed in the service of the country.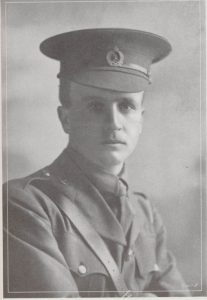 But letters were another thing – at the very least telling parents their boys were still alive and hopefully offering the promise they were not at great risk.
That was the sort of letter Second Lieutenant Ron McLean wrote home from camp in 1916, ready to head back into battle after a spell away from the trenches. He made no mention of Keith, who he had not seen for so long, but told of a chance meeting with brother Neil. Though the prospect of imminent action would have caused dismay, his breezy manner must have cheered his Mum and Dad.
Dear Mother and Father
This is just to tell you of my luck in meeting Neil. We are so lucky. I couldn't believe it. He marched along just past me. I was talking to a chap and just leaning up against a post when I saw someone like Neil. I thought it impossible and left the man gaping while I rushed along, and it was Neil all right. He is off to an officer's training corps… I am so glad.
There will be only one of us in this stunt anyway. I have the misfortune to be going up today. Ugh, it makes me sick the idea of it. Still I did not come here to amuse myself in base camps. Just funny, in about a few days I shall probably be killing or capturing Huns. Oh it makes me laugh – I don't feel at all in the mood for such amusement at present but, as I say, they don't consult me.
Dear old Neil. He looks in splendid health. Good on his pluck. He'll be commissioned in a month or two. Am I not an old waster? Why I haven't got a rise for years. Never mind I wouldn't be forced back there [to the European battlefields] unless I was worth something.
But honestly mother and father, this is going to try me some. You see it is a pretty big show we will go into. I am not trained like the first time I went into the trenches. I have endured non-hardships for two months or more and here I am being pitchforked into a real old slap up.
I am no coward but I know exactly what I am going into and ignorance was bliss before. Shells don't frighten you until you see them wounding and killing people.
Anyway, on the whole I am glad. I must be with my old company and help them along. I am really fond of them.
Goodbye, if I come through the next week or so without getting a trip to England [to recuperate in hospital] I shall be much surprised.
Love from your son Ron.
Soon after, if standard military procedure applied, the telegram would have arrived. Ron was killed in action.
And a month or so after that came the news that an astonishing coincidence allowed him to share his final minutes on earth with Keith Hunter, who served at Gallipoli and was promoted to captain and attached to the 6th (Hauraki) Company in France.
In the most tragic twist imaginable, the two boys who grew up in peaceful Mt Albert would die alongside each other during the advance on the French town of Flers in the Battle of the Somme. Both were 23.
Through some quirk of fate, the two young soldiers met in the fury of battle and ended up in a shell crater to weigh up the options with a senior officer.
The full story came in a letter to Murdoch McLean from an officer in the New Zealand forces: "'The New Zealand troops were advancing towards Flers, the 2nd Auckland Battalion having just captured what was known as Switch Trench.
"Your son and another officer named Hunter, son of the late Mr. W. Hunter, of Hamilton, and his 0C, Captain Grainger, were discussing the situation in a shell crater about 200 yards in advance of Switch Trench. Your son had just said that he was going on towards Flers when a shell landed among them, killing your son and Hunter, and wounding Captain Grainger.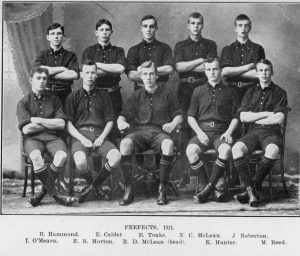 "The latter told me that he was so dazed at the time he did not know your son had been killed. He thought he had gone off towards Flers before the shell landed."
The officer writing the letter bluntly noted that he could not grieve for any man killed in action because "I feel that no man could wish for a better deal than to fall in battle defending a righteous cause".
"It is for you, his father and mother and his family that I feel sorry; your family has paid the full bitter price of Empire in giving your sons.
"To show you the regard in which he was held by those who knew him, I cannot do better than tell you what Captain Grainger had to say about him. He said he was one of the bravest men he had ever known, his courage was of VC standard.
"His fellow officers had the very highest respect for his work as an officer and for his general bearing, and the men of the company absolutely worshipped him.

"Captain Grainger is not the man to praise anyone unless the praise has been well earned, and I can assure you from my own observation of your son's work and bearing in the trenches, that I can confirm in the fullest degree the tribute that Captain Grainger paid him."
It may be a comfort to the relatives to know that all the Auckland men of the 2nd Battalion [killed at the front] were buried together near the first trench they took.
Grainger himself wrote to the families, explaining that he was a great friend of Keith Hunter: "We were in high spirits and it was just after lighting a cigarette that a 5.9 shrapnel shell landed right on our shell crater. Poor Hunter was killed instantly. Death was so sudden – I saw his face still smiling. He seemed to have died the happiest of all deaths for a soldier – 200 yards ahead of his men, [a born soldier] leading his New Zealand division."
All the words were no doubt appreciated, but it is impossible to imagine the grief of a family that had tragedy knock at its door so often. In a year, Murdoch McLean was himself dead, leaving his wife to bear 26 years before she died in 1943.
The McLean-Hunter story stays buried today in family histories, but it does have a more public acknowledgement: a century on, two stained windows in the chapel of Kings College provide a lasting monument to the battlefield tragedy.
Many students looking up at "The Good Samaritan" and "The Pharisee and the Publican"
must be puzzled by the phrase "And in their death" beneath the first window that can only be
completed by the words "they were not divided" on the second.
It may seem like a riddle, but it is living history – set forever by an early 20th century headmaster of Kings, Mr C. T. Major, who knew both boys and created a memorial to true and enduring friendship.
CAPTIONS (from top to bottom): Ron McLean; Keith Hunter; Ron McLean in a front-line trench; prefects of King's College in 2011; the Pharisee and the Publican memorial at the Kings College chapel; Ainslie, the McLean homestead built by the family in Allendale Rd in the late 1880s and demolished in the mid-1960s.
Thanks to Ian McLean, son of Murdoch and Isabella's youngest son Ross, and the Mt Albert Historical Society for their help in the preparation of this Anzac Day story.