After bubbling away in the background for well over a year, the signs are there may soon be some action on the Housing New Zealand land at 33 Asquith Ave.
All the rumours that have swirled over the last many months seem to have been just that and, no, the land has not been sold to a private developer.
Housing NZ is still holding its cards very close to its chest and has revealed very little since the March 2016 public meeting where executives unveiled the plan for a mixed tenure development producing 20 four-bedroom town houses to be sold privately and a block of 20 one-bedroom units for state tenants.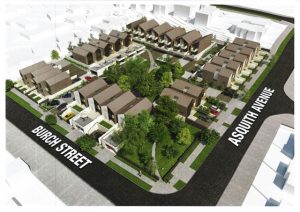 But Mt Albert Inc believes that, despite local suggestions the original concept might be redrawn or amended, the plan will proceed as intended.
On the time-table outlined 20 months ago, construction was due to have started around October-November last year, with an indicated completion date of winter/spring 2018.
But the consent stages seemed to take longer than expected, stalling the tender round.
Then, when the tender results finally emerged in March, there were obviously major issues, with HNZ leaving open the option of re-advertising the contract.
Since then, there's been silence, though questions (on behalf of Mt Albert Inc) from Jacinda Adern in Parliament in June drew this response from then Housing Minister Amy Adams: "Housing New Zealand advises me that it is currently assessing options for the site and plans are yet to be finalised.
"The October 2016 start date for the construction of the Asquith Avenue site was as an early estimate. As options around the Asquith Avenue site are still being assessed, Housing New Zealand is not in a position to confirm dates relating to start of construction, sale of private units and move-in date of tenants."
That talk of "currently assessing options" – the same sort of language used five years ago when the old units were due for demolition – raised questions over whether the corporation had run into budget concerns.
But the latest indications are that HNZ has worked its way through the issues and may soon be ready to make an announcement.
Bruce Morris
Go to big issues for a full backgrounder on the Asquith project