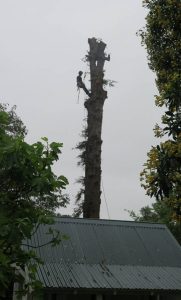 The romantics have their way: Alberton's grand old redwood tree may indeed have been planted by Allan Kerr Taylor. Well, maybe.
When the diseased trunk was lowered by chainsaws on Friday, arborists stepped in with some detective work to estimate how long it had graced Mt Albert.
While Kerr Taylor's fingerprints were not on the trunk, an arborist was able to deduce from the growth rings on a cut slab that the tree was around 150 years old. He found a lot of growth space in the rings in its early days, and then tighter rings as the tree grew older.
Alberton House was built for Kerr Taylor in 1863 and he expanded it into an 18-room mansion that became a centre of the community in 1872 and stayed that way until well after his death in 1890.
Whether the Scots pioneer planted the redwood himself will never be known, but the age of the tree fits perfectly into the romantic scenario that he at least supervised its start in life.
And it doesn't take a Sherlock Holmes to work out how a redwood got to be included in the Alberton formal gardens: Kerr Taylor spent time in California during the gold rush of the 1850s where he surely would have seen the magnificent redwoods.
The tree will live on in an art sense, with a wood turner retrieving some of the more stable blocks. As well, a creative seat has been cut out of the trunk and Alberton hopes it can be moved to a permanent position by a crane operator when the bigger chunks are taken away in the next week or so.
As the pictures show, the chainsaw gang had its work cut out in the drizzle. The house quivered as the bigger slabs thundered to the ground.
Bruce Morris