Jacinda Ardern proves to be no expert on the trivia of Mt Albert, but ever ready to take up a challenge. Pictures: Julia Thorne [Images copyright – Julia Thorne Photography]
By Bruce Morris
Is it fair and reasonable to subject someone as elevated as the Prime Minister to an impromptu test of local knowledge – as if she were competing for a bar tab at an Albert's Post quiz night?
Well, probably not. Some might even say disrespectful. But when the Prime Minister is up for the challenge, why stand in her way?
"Up for the challenge" may be slightly over-stating things, because she was certainly on the defensive at this stage of a Mt Albert Inc interview over 20 quick minutes between appointments.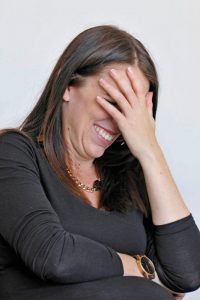 "Oh, gawd no, I'm terrible at pub quizzes," she protests. "Everyone expects me to know all the detail, and before the byelection I did know all the facts. But now I'm filled with budget facts!"
Jacinda Ardern is comforted when told most local people would probably struggle to get the bulk of the questions right. Besides, no one likes a smart alec – and everyone loves a good sport.
So let's get this thing rolling.
First up, politics. Who was the post-war Prime Minister educated at Mt Albert Grammar?
Really, she has no idea, except to be confident "it wasn't one of ours" (Labour). She's certainly right on that and, under the pressure of a ticking clock, has to be given the answer: Sir Robert Muldoon.
Staying with politics, who's the chair of the Albert Eden Local Board? Easy for her – Peter Haynes, and she shows off by slipping in a handful of other board names.
Now, back a century and more to the mining operation on the mountain. What was the product prised from the cone? To be precise, the answer is basalt rock for railway lines. But "volcanic rock" is close enough to give the PM two out of three.
Another easy one: what supermarket is at St Luke's mall?  Countdown, of course, and even her police security guys would know that.
What's happening with the Mt Albert aquatic centre? This one draws a shaky "It's eventually going to have to move so the school can get its carparking back" and, while the answer's a bit woolly, it contains the germ of truth. Make it four out of five.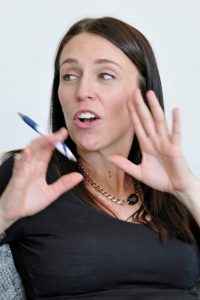 Alice Wylie Reserve is a precious piece of Mt Albert green space – so who was/is Alice Wylie? "You know, I have always wondered that as I've driven past" – she has no idea. Mrs Wylie, still going strong well into her 90s, was a former deputy mayor of Mt Albert.
What is Mt Albert's oldest church? She doesn't know. It's St Luke's. And she has no idea who Roy Clements is (the treeway off Alberton Ave and running alongside Meola Creek is named after him – the former MAGS teacher who was the driving force behind the creation of Mt Albert's urban forest).
Staring at a four-out-of-eight tally, she trips further: Lucy Lawless's dad was the last Mayor of Mt Albert. What was his name? She has to concede defeat, insisting that the answer – Frank Ryan – is on the tip of her tongue, but comes back strongly with the names of the two supercity Albert-Eden ward councillors: Cathy Casey and Christine Fletcher.
In pre-budget mode, the PM is great at reeling off numbers, but having a guess at the Mt Albert Grammar roll was too much. She suggested "over a thousand" and, when told it was around 3000, insisted her guess was, strictly speaking, correct. Typical politician, and she was over-ruled – but was almost bang on when deciding the Gladstone roll was 1000.
Next one was easy for her: Who is the former MAGS student in Donald Trump's inner-circle? Businessman Chris Liddell, of course.
And then, with a handful of questions still to be posed, a knock at the door interrupted proceedings and she was whisked away down the stairs – calling out a muffled answer of some sort to the query of "What pioneering family built Alberton House?"
We'll give her a generous benefit of the doubt that she got the Kerr Taylor family right, which gives a score of nine out of 15.
Not enough to win the bar tab, but a fair outcome for a fresh local MP with rather a lot on her plate.
Jacinda Ardern makes a promise to Mt Albert over the Unitec development