Team-building is not just reserved for corporate and sporting groups, and the chance to build a better way to work together was welcomed by Mt Albert Grammar's new prefects.
The school's 33 prefects for 2018 headed off to Onemana on the Coromandel Peninsula for three days of bonding, each giving a three-minute speech, taking part in a quiz and a goal-setting session to start planning the committees they want to lead next year.
As well, the group created a song and dance performance reflecting the various cultures of MAGS, completed an orienteering challenge navigating through a bush course, and planted out in sand dunes and lay mulch on tracks to help the local residents' association.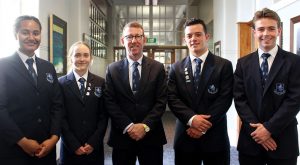 Headmaster Patrick Drumm (pictured) later named Isaac Munro as head boy and Hannah Houghton as head girl. Their deputies are Billy McColl and Rosarina Pillissi.
All are top academics, and have excelled in other areas of the school.
Isaac is the 2017 Victor Ludorum for his achievements with the national champion softball team, winning the top skiing award, and showing excellence in swimming, waterpolo and rugby. He has also been involved in student service groups such as Students Against Dangerous Driving and the Relay for Life fundraising event. His elder brother and sister, Eric and Jessica, were deputy head prefects in their final years at MAGS.
Hannah was named the 2017 best all-round girl in Year 12 for, among other things, her achievements as a violinist in the school orchestras, and as an athlete in distance running and hockey. She is a member of the Environment Club and has attained the Duke of Edinburgh's Hillary Award at silver level.
Snippets from the school newsletter:
Year 13 French student Annabel Taylor will spend 2018 working as an English language assistant at MAGS' sister school in Paris, Sainte Croix de Neuilly.
Each year MAGS runs an exchange programme with Sainte Croix, and in July a group of French students spent five weeks living with their Mt Albert buddies, attending school and going on holiday around New Zealand. A group of New Zealand French language students is now in Paris staying with Sainte Croix families before going on a tour of France.
Annabel, who has studied French since Year 9, took part in the exchange programme in 2015-2016, and applied for a job as an English language assistant at the school next year. She  will live in a hostel at the school with other language assistants from around the world, help in English language classes and run her own groups to help students with conversational English.
MAGS' netball academy team won the International Youth Sports Championship in Singapore, beating AFFIES from South Africa 38-27 in the final earlier this month.
Kima Von Dincklage was named "most valuable shooter" of the tournament.
Year 9 students Hannah Adye and Luke Clements won medals at the NZSS Athletics Championships held this month in Hastings.
Hannah won silver in the junior girls pole vault with a vault of 3.40m. Luke won bronze in the junior boys 2000m steeplechase in a time of 6.33.05.
MAGS' rowing squad achieved a clutch of 1st, 2nd and 3rd placings at the Karapiro Club Regatta, with Year 11 student Holly Chaafe claiming a hat trick of wins.
Holly won the under-16 girls single, the under-18 girls single and the under-16 girls double with Marieke Richards.
Lydia Finch and Olivia Alberts came 2nd in the under-16 girls double, while the school intermediate and novice girl octuple eights came 2nd and 3rd respectively.