Steve and Anna's brand new restaurant adds sparkle to the village strip. Picture: Bruce Morris
Steve and Anna Gough went off to Port Douglas for a break away from the kids – and came back with a plan for a new Mt Albert restaurant.
Away from distractions in the North Queensland resort, they found time to bounce around ideas. Even time to check out Trade Me listings and zero in on a new lease available in the village strip next door to Triniti of Silver.
Back they came to Mt Albert (via reconnaissance missions to plenty of Port Douglas bar/restaurants) and before long had tied up a deal in a section of a building that once hosted the local post office.
The Goughs are the inspiration and energy behind Albert's Post at 911A New North, a "pizza bar" which after months of refitting, reshaping and paperwork has just opened its doors.
The new business certainly adds more sparkle to the village strip and gives confidence that some sort of gentrification process to change the face of the town centre is not a pipe-dream.
Of course, Albert's Post has landed right in the middle of the messy and dawdling upgrade, with work outside the restaurant's doors likely to be a challenge to customer flows in late spring and early summer.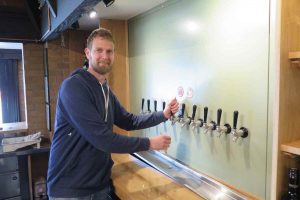 It's a battle for anyone setting up a new business when wages have stopped flowing and finance costs are kicking in, but Steve and Anna are ready to ride through hard times to give Mt Albert something totally new to enjoy in the future.
A venture like this had been a vision in the Gough household for a year or two and, while many romantics eyeing their own business might have wondered at launching an expensive and wearying project with four children aged between two and seven (twins) to care for, they figured the time was as right as it would ever be.
The result: a bright, expansive, modern restaurant with an airy fit-out that focuses on simple well-cooked food, with an emphasis on pizza – and a bar specialising in craft beers.
Steve (42) is a craft beer nut (yes, of course he brews his own) who has used his finance skills in corporates like Deloitte, Fonterra and Lion. He's a Wellingtonian by birth and, after three years in Amsterdam, came back to New Zealand to settle in Auckland in 2004, ending up in Mt Albert.
Shortly after, he met Anna, whose marketing career had brought her from Christchurch to Auckland (connecting via mutual friends at Ponsonby's Whisky Bar if you must know) and they were engaged six months later.
After a year in Europe, back they came to Mt Albert and everything started to fit into place – house, jobs, marriage and babies.
Anna discovered the satisfaction of owning her own business when she and a friend set up a public relations company, and the move into a joint enterprise with Steve was a natural progression.
That brief holiday in Port Douglas gave them the focus, and a flying visit to Sydney to watch over a cousin of Anna's who has her own pizza restaurant helped Steve to fill in some of the knowledge gaps from their endless research.
Behind them every step of the way has been Anna's dad Lloyd, flying to Auckland from Christchurch every week and blending skills as a typical Kiwi home-handyman with his wide management background in the liquor industry.
Albert's Post is a classic small business example of rolling up your sleeves and getting on with the job – right down to Anna and Lloyd doing their own parking surveys to satisfy the council the business ticked all the boxes.
It's a risk starting any new business, certainly in the food and hospitality area, and the Goughs have plainly invested more than time and energy into their project.
Hopefully it will offer inspiration to others – following in the footsteps of fairly new village businesses like Good Thing, Retro Addiction and Vinny's – and help lead the way to a more inviting village strip.
– Bruce Morris