Anne Brockett pictured with her parents, Margaret (Peggy) and Percy Brockett, on the day she married Malcolm Simpson in 1956. Picture courtesy Simpson family archive.
By Bruce Morris
Our grand old bungalows are absolute treasures from a time when our city was young, but it's the people who built and lived in them who give real life to the stories of early Mt Albert.
When Mt Albert Inc last week published a story on the plan to build 10 townhouses in Allendale Rd where a family home has sat for almost a century, much of the focus was on the Unitary Plan's drive for density and how it is opening up parts of the city to new residential development.
It's a drive with classic conflicts: Auckland desperately needs more houses, but how much of the old should give way to the new?
Planners say the Unitary Plan does its best to find a reasonable middle ground, and many of Mt Albert's lovely old bungalows are shielded from developers. But 69 Allendale Rd – like many properties on that western side of the prime local street – just misses out.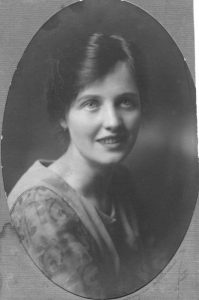 When the 97-year-old home is taken from the land to make way for the townhouse development, it will hopefully find a new spot elsewhere in the city fitting its simple grandeur, or perhaps in the country.
And when the new owners sit down with their children or grandchildren on the front porch, they'll be able to tell them of Percy Brockett and his wife, Margaret (pictured), who built the house in 1921, and of how it stayed in the family's hands for 57 years.
The story of Percy and Margaret – drawn together in London after the First World War – is a rich one of adventure, love, family and hard graft, and comes to us from grandson Andrew Simpson, who lives in Mt Albert.
Andrew has provided Mt Albert Inc with photographs, memories of his grandparents (written by his late mother), and records of the building contract for 69 Allendale Rd. They offer a fascinating insight into the life of a couple who met 18,000km away in the hardest of times and found a future in our neighbourhood.
Percy Brockett (pictured below) was living in Wellington when he volunteered for the army after the outbreak of war, but was rejected on health grounds. When his younger brother was killed in action, he tried again to enlist – and this time was accepted, heading off on a troopship to Europe around 1916.
It was to be a relatively uneventful war for Percy – in camp on standby for action in France, but never having to fire a shot in anger before the conflict was over.  He stayed in England after the war, working in an education unit run by the New Zealand forces and then, probably in 1919, he met the  woman who would share his life.
Margaret Fraser was bright (dux of her school as a 14-year-old in 1910), sharp and pretty, raised by a guardian in Edinburgh after her mother died when she was 10 and her father passed away several years later.
After leaving school, Margaret worked for a spell at the national census office before the guardian arranged for her to train as a crèche nurse for young children in a daycare in Cheltenham, not far from London.
That led to a casual meeting with Percy, but nothing came of it. Soon after, Margaret was walking home on a cold and miserable day when she spotted Percy on the footpath on the other side of the road.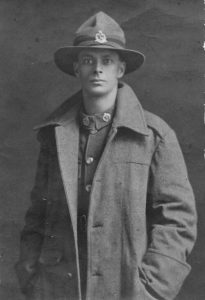 Andrew Simpson picks up the story as told to him by his grandmother: "I think Percy then was a bit of a ladies' man, and he and another serviceman were walking with two girls, arm-in-arm. When he saw my grandmother, he broke away, crossed the road and began talking to her."
But Margaret was having none of that. Idle street chat on a cold day was of no interest to a young woman with strong Victorian principles (as an elderly woman, she could still remember her parents taking her, barely five years old, outside to hear the bells toll after Queen Victoria died in 1901).
Over time, though, the young couple found friendship, and when Percy left England on a troopship in 1920, Margaret wasn't far behind – deciding that New Zealand and a fresh start offered more than a lonely life without family in Britain.
Margaret's arrival in Wellington was a surprise to Percy's family, who knew nothing of the romance, but the couple married very soon after on December 29, 1920. Four months later, they had bought a plot of land in Allendale Rd and reached a construction agreement with local builder Geo. A. Anderson.
By today's standards, the agreement (pictured below) looks flimsy: a signed declaration that "I agree to build [a] residence for you according to the plans and specifications submitted".
But it seemed to work just fine, right down to Percy's wish to get the final price down from 950 pounds to 900 pounds ($1800, equivalent to $82,100 today), plus the price of the land. He gave the builder leeway to trim costs here and there by dropping the odd bell and whistle while still producing a quality product.
Margaret and Percy would go on to spend the next four decades together at 69 Allendale Rd, raising two daughters: Anne Simpson, Andrew's mother, and Betty Beckwith. [Both have since died; Andrew's dad Malcolm lives in Glen Eden.]
Percy worked in accountancy — a career he had begun before heading off to war — and spent a lifetime with the law firm Russell, McVeagh, Macky and Barrowclough (now Russell McVeagh). He loved music (playing the violin), enjoyed writing short stories, kept fit walking and tramping and tending his garden and was a voracious reader. He died in 1962, aged 72.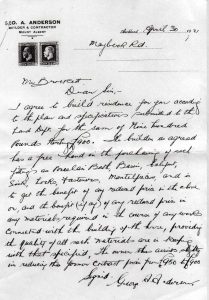 Margaret, known to everyone as Peggy, stayed in the house until 1978, when she moved to Burch St, and was very active in the Presbyterian Church and community affairs, including the local Plunket, of which she was made a life member. She died in 1993, aged 95.
Anne Simpson's written memories of her mother make some wry observations: "She had a very delicate and ambivalent attitude to the truth. To tell a lie was wrong – 'tell the truth and shame the devil', she would say. But on the other hand, you should 'never let the truth stand in the way of a good story'. That was not a lie – that was only 'drawing the long bow'."
Anne's fond memories were of a mother who "grew up in the oral tradition and passed it on to her children. Our nursery rhymes came not from books but from the songs she sang to us and woe betide us if we got it wrong when we sang them in our turn."
Andrew remembers his visits to 69 Allendale Rd for family occasions and to see his grandmother in the mid-late 1960s and 70s when the house was still in pretty much "original condition".
Later, in Burch St, he remembers the great chats with his grandmother: "She really liked to talk – about her early days in Scotland, and the people and families who lived in Allendale."
When he took advantage of an open home to visit the Allendale Rd property in the late 1980s, he was disappointed to find some of the original features had gone to make way for a spacious open-plan living area. But 10 or so years later, at another open home, he was pleasantly surprised to see the spiral window handles and much of the remaining old detail still intact.
"I guess I'm sorry to see the house go," he says, "but it's already a different place to what I knew."
There is one blessing as the old makes way for the new, though. The lovely big puriri tree at the front of the property that keen botanist Percy Brockett probably planted is protected and will stay as a lasting monument to a couple who helped to make Mt Albert the way it is today.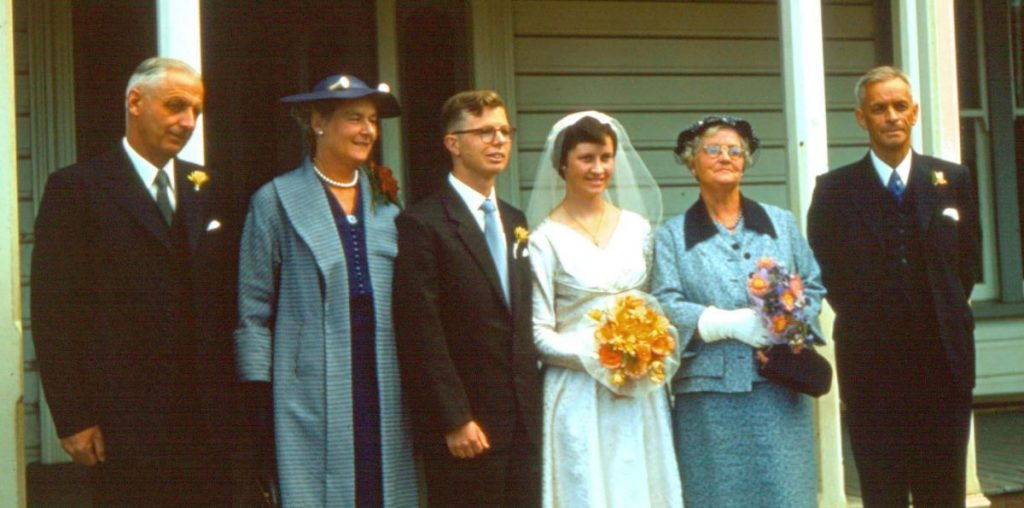 Malcolm and Anne Simpson with their parents at Ferndale House, Mt Albert, on their wedding day in 1956.